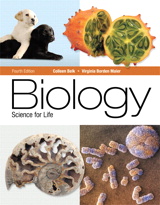 Description
Coleen Belk and Virginia Borden Maier have helped students demystify biology for nearly twenty years in the classroom and nearly ten years with their book, Biology: Science for Life. In the new Fourth Edition, they continue to use stories and current issues, such as discussion of cancer to teach cell division, to connect biology to student's lives. Learning Outcomes are new to this edition and integrated within the book to help professors guide students' reading and to help students assess their understanding of biology.
A new Chapter 3, "Is It Possible to Supplement Your Way to Better Health? Nutrients and Membrane Transport," offers an engaging storyline and focused coverage on micro- and macro-nutrients, antioxidants, passive and active transport, and exocytosis and endocytosis.
For instructors who cover Animal Structure and Function and Plant Biology, an alternate edition of this book, Biology: Science for Life with Physiology, is also available.
This package contains:
Biology: Science for Life, Fourth Edition
Enhance your learning experience with text-specific study materials.
This title is also sold in the various packages listed below. Before purchasing one of these packages, speak with your professor about which one will help you be successful in your course.
Purchase Info
Digital Choices ?
MyLab & Mastering with Pearson eText is a complete digital substitute for a print value pack at a lower price.
MyLab & Mastering ?
MyLab & Mastering products deliver customizable content and highly personalized study paths, responsive learning tools, and real-time evaluation and diagnostics. MyLab & Mastering products help move students toward the moment that matters most—the moment of true understanding and learning.
+ Other Options
eTextbook ?
With CourseSmart eTextbooks and eResources, you save up to 60% off the price of new print textbooks, and can switch between studying online or offline to suit your needs.
Once you have purchased your eTextbooks and added them to your CourseSmart bookshelf, you can access them anytime, anywhere.
Print Choices
Loose Leaf Version ?
Books a la Carte are less-expensive, loose-leaf versions of the same textbook.