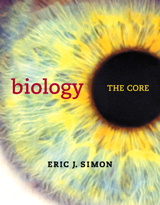 Description
Intended for Non-Majors Biology/Introductory Biology (non-majors/mixed)
Eric Simon's
Biology: The Core
combines a 12-chapter textbook and robust content in MasteringBiology
®
to offer a flexible new teaching and learning package that engages students with concise writing, beautiful and effective visuals, and outstanding interactive digital resources. The modular organization of the text makes it easy for instructors to teach concepts in their preferred order and powerful online activities reinforce those concepts by presenting applications and relevant current issues.
This program offers an innovative teaching and learning experience by helping instructors and students:
Revolutionize teaching in and out of the classroom: The unique hybrid integration of the book with MasteringBiology allows instructors the flexibility to teach the course just the way they want via a medium that caters to the way today's students learn.
Emphasize the big picture: The Core's concise modules focus students' attention on the most important concepts and encourage them to see the relevance of biology to everyday life. Each module provides just enough information to help them understand the subject.
Achieve a basic understanding of biology: The Core combines dynamic figures and illustrations with supporting narrative as the primary source of instruction to create a more engaging and accessible learning experience for students. Engaging and effective activities in MasteringBiology help students further visualize and understand complex biological processes.
Prepare memorable classroom learning experiences: Comprehensive instructor tools, created by Author Eric Simon, include customizable Current Topic PowerPoint® slides containing animations and videos, detailed topic guides, and related MasteringBiology assignment options.
Table of Contents

1. An Introduction to the Science of Life
2. The Chemistry of Life
3. The Cell: the Fundamental Unit of Life
4. Energy and Life
5. Chromosomes and Inheritance
6. DNA: The Molecule of Life
7. Darwinian Evolution
8. Biodiversity 1: Microscopic Organisms
9. Biodiversity 2: Fungi and Plants
10. Biodiversity 3: Animals
11. Human Body Systems
12. Ecology

Purchase Info ?
With CourseSmart eTextbooks and eResources, you save up to 60% off the price of new print textbooks, and can switch between studying online or offline to suit your needs.
Once you have purchased your eTextbooks and added them to your CourseSmart bookshelf, you can access them anytime, anywhere.
Buy Access
Biology: The Core, CourseSmart eTextbook
Format: Safari Book
$44.99 | ISBN-13: 978-0-321-83332-7