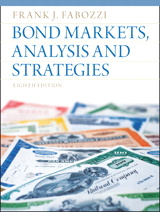 Description
For students enrolled in Fixed Income Securities Courses or Bond Markets Courses.
An applied approach to understanding bond markets.
Through its applied approach, Fabozzi's Bond Markets prepares students to analyze the bond market and manage bond portfolios without getting bogged down in the theory.
This edition has been streamlined and updated with new content, and features overall enhancements based on previous editions' reader and instructor feedback.
Table of Contents
Chapter 1: Introduction
Chapter 2: Pricing of Bonds
Chapter 3: Measuring Yield
Chapter 4: Bond Price Volatility
Chapter 5: Factors Affecting Bond Yields and the Term Structure of Interest Rates
Chapter 6: Treasury and Federal Agency Securities
Chapter 7: Corporate Debt Instruments
Chapter 8: Municipal Securities
Chapter 9: International Bonds
Chapter 10: Residential Mortgage Loans
Chapter 11: Agency Mortgage Pass-Through Securities
Chapter 12: Agency Collateralized Mortgage Obligations and Stripped Mortgage-Backed Securities
Chapter 13: Nonagency Residential Mortgage-Backed Securities
Chapter 14: Commercial Mortgage Loans and Commercial Mortgage-Backed Securities
Chapter 15: Asset-Backed Securities
Chapter 16: Interest Rate Models
Chapter 17: Analysis of Bonds with Embedded Options
Chapter 18: Analysis of Residential Mortgage-Backed Securities
Chapter 19: Analysis of Convertible Bonds
Chapter 20: Corporate Bond Credit Analysis
Chapter 21: Credit Risk Modeling
Chapter 22: Bond Portfolio Management Strategies
Chapter 23: Bond Portfolio Construction
Chapter 24: Liability-Driven Strategies
Chapter 25: Bond Performance Measurement and Evaluation
Chapter 26: Interest-Rate Futures Contracts
Chapter 27: Interest Rate Options
Chapter 28: Interest-Rate Swaps, Caps, and Floors
Chapter 29: Credit Default Swaps
Purchase Info ?
With CourseSmart eTextbooks and eResources, you save up to 60% off the price of new print textbooks, and can switch between studying online or offline to suit your needs.
Once you have purchased your eTextbooks and added them to your CourseSmart bookshelf, you can access them anytime, anywhere.
Buy Access
Bond Markets, Analysis, and Strategies, CourseSmart eTextbook, 8th Edition
Format: Safari Book
$118.99 | ISBN-13: 978-0-13-274359-4