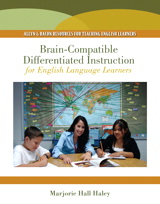 Description
Brain-Compatible Differentiated Instruction for English Language Learners is written for teachers looking for solid instructional practices that work well with mainstream as well as English language learners (ELLs.)
Today's teachers will encounter a diversity in the student population that brings both challenges and opportunities. This book prepares teachers to effectively teach brain-compatible, differentiated lessons to ELLs while developing students' language ability. Teachers of culturally, linguistically, and cognitively diverse learners (CLDs) in K-12 school settings will find that this is a must-have book because it provides the resources for teachers to create brain-compatible, differentiated teaching strategies, and demonstrates sustained teaching. Dr. Hall-Haley's ultimate goal is to help teachers make informed and skillful decisions that address the needs of English language learners.


Section I gives a theoretical overview of the twelve topics that contribute to successful brain-compatible teaching and learning and differentiating instruction for ELLs. Starting with a definition of brain-compatible teaching and learning, Hall-Haley introduces theories of teaching and learning that substantiate the validity of this work as they relate to multiple intelligences and learning styles. The book then examines differentiating instruction and how to use such strategies as anchor activities and structures and provides sample lessons of each. Several examples are given to further illustrate aligning teaching with the standards. Sections II and III include five 1-day lesson plans and two 5-day lesson units of activities that demonstrate sustained teaching. These are divided into topic areas and grade levels.
The text can be used as part of a teacher training program (both graduate and undergraduate) as well as part of an on-site professional development program.
Table of Contents
Contents

Preface ix

Introduction How to Plan for
Brain-Compatible Differentiated Instruction:
Using the Lesson Plan Template 1

Section One Theoretical Overview 7
Brain-Compatible Teaching and Learning 8
Brain-Compatible Theories of Teaching and Learning 8
Gardner's Theory of Multiple Intelligences 8
How to Identify the Intelligences of Students with
Language and Culture Differences 10
Building on the Strengths of Multiple Intelligences While

Working with English Language Learners 10
Learning Styles 11
Working with Nonspeakers of English and Beginners 14
Learning about Your Students through Observations 14

Differentiating Instruction 15
Differentiating Instruction and Anchor Activities 16
Differentiating Instruction with Kagan Structures 17
Tips for Planning Lessons for English Language Learners 18

Meeting The Needs of English Language Learners 19
Definition of English Language Learners 19
Stages of Second Language Acquisition 20
Strategies for Helping English Language Learners 20
Enhancing Literacy Skills for English Language Learners 21


vi Contents
No Child Left Behind 22
ESL Standards for Pre-K—12 Students and English
Language Proficiency Standards 22
TESOL Performance Indicators and How to Read Them 23
World-Class Instructional Design and Assessment (WIDA) 25
CAN DO Descriptors for WIDA's Levels of English Language Proficiency 25
Second Language Acquisition Theory 25
Program Models of Instruction 27
The SIOP Model of Sheltered Instruction 28
Content-Based Instruction/Sheltered Instruction 28
Methods of Instruction 29
Cognitive Academic Language Learning Approach (CALLA) 29
Total Physical Response 30
Classroom Management 32
Seating Arrangements 33
Forming Groups 34
Centers 34
Bulletin Boards That Are Both Instructive and Constructive 35
Students' Papers 35
Keeping Track of Homework Assignments–The IOU Book 35
Managing Large Classes 35
Daily Routines 36
Establishing Nonverbal Cues 36
Classroom Discipline 37

Section Two Planning for Brain-Compatible
Differentiated Instruction: One-Day Lessons 41
Lesson 1: Visual Scaffolding through Content
Science: The Solar System 42
Lesson 2: Dialogic Approach to Building Vocabulary in Content
Social Studies: Economics and Interdependence 49

Contents vii
Lesson 3: Building Comprehension Using Graphic Organizers–
Content Science: Plant and Animal Cells 56
Lesson 4: Vocabulary Processing in Content Science: Using
Interactive Notebooks to Learn about Microscopes 63
Lesson 5: Improving Literacy Instruction in Language Arts:
Using a Directed Reading—Thinking Activity 70

Section Three Planning for Brain-Compatible
Differentiated Instruction: Unit Lessons 77
Lesson 6: Creating Activities to Apply Content and Language
Knowledge in Mathematics: Assessment 78
Lesson 7: Supporting The Acquisition of English
Writing Competence: Writers' Workshop 94

Appendixes 109
Appendix A: Sample Lesson Plan Template
(English as a Second Language) 111
Appendix B: Brain-Compatible Planning Grid–One Day 113
Appendix C: Brain-Compatible Planning Grid–Five Days 115
Appendix D: Links for Multiple Intelligences
Theory and Applications 117
Appendix E: Multiple Intelligences Activities Bank–
Glossary of Terms and Strategies 119
Appendix F: Multiple Intelligences Activities Bank 121
Appendix G: Tips for Working with English
Language Learners 123
Appendix H: Back to School Tips 125

viii Contents
Appendix I: The CAN DO Descriptors for WIDA's
Levels of English Language Proficiency 129
Appendix J: Multiple Intelligences Survey: Grades 4—8 139
Appendix K: Multiple Intelligences Survey:
Grades 9—Adult Learner 141
Appendix L: Study Guide Questions 143
Appendix M: Reproducible Activities 147
Index 189