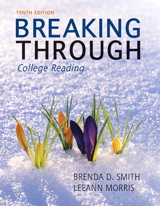 Description
Breaking Through provides instruction and practice on the reading and study skills necessary for successful independent college learning by providing a high volume of actual college textbook and academic selections for application opportunities.
The use of actual college textbook passages offers immediate modeling and application of college study and reading skills at a realistic level. Students apply the skill being taught to reading short textbook passages and then go on to use multiple skills on the longer selections that conclude most chapters.
Purchase Info ?
With CourseSmart eTextbooks and eResources, you save up to 60% off the price of new print textbooks, and can switch between studying online or offline to suit your needs.
Once you have purchased your eTextbooks and added them to your CourseSmart bookshelf, you can access them anytime, anywhere.
Buy Access
Breaking Through, CourseSmart eTextbook, 10th Edition
Format: Safari Book
$49.99 | ISBN-13: 978-0-205-19036-2