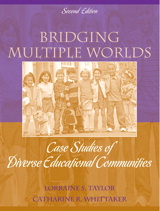 Description
This text offers "real world" case studies involving educational staff, students, and families from diverse backgrounds in a variety of dynamic school settings.
Bridging Multiple Worlds emphasizes long-term, comprehensive solutions that promote school, home, and community partnership to meet challenges in educational settings. The text provides foundational information about diversity in the US, multicultural education, and family-school-community partnership in Part I; moves on to explore the use of cases in teacher education and how to analyze cases using a "decision making scaffold" in Part II; and delves deeply into specific cases and the issues surrounding them on a wide range of diversity topics in the seven chapters in Part III. The authors' backgrounds in Special Education enable them to incorporate issues involving children with exceptional needs and their families into nearly half of the cases, making this text a good companion to special education courses in addition to a comprehensive resource for all courses about diverse learners. Instructors and students will find the authentic situations stimulating and well-contextualized with pertinent research and background information preceding each case. Specific discussion questions following each case foster reflective analysis from a social justice perspective. These questions, used in conjunction with the Decision Making Scaffold, allow for broad and open class discussions of difficult issues and challenge participants to find common ground from which a meaningful and comprehensive plan of action can be developed. The framework of the book allows future teachers, counselors, related service providers, and administrators to appreciate and understand the complexity of diversity issues in the cases and in the schools/communities where they will work.
Table of Contents
Preface
Acknowledgements
Foreword
The Meaning of Diversity
Author's Statement of Philosophy
Use of Terminology Related to Diversity
References
I. Diversity in the United States
1. The Changing Pattern of Immigration
Historical Overview
Legislation
Assimilation and Acculturation
Demographic Changes
Demographic Changes in the Schools
References
2. The Current State of Education for Diverse Students in the United States
The Educational Progress of Diverse Learners
Multicultural Education
Preparation of Teachers for Diverse Learners
References
3. Building Partnerships with Diverse Family and Communities
Family Involvement in the Schools
Characteristics of Families
The Family System
Culturally Diverse Families
The School-Family-Community Partnership
References
II. A Case for Cases
4. The Development and Use of Cases in Teacher Education
What is a Teaching Case?
Why Are Case Discussions Valuable?
How Do Participants Analyze a Case?
How Do Participants Discuss a Case?
References
5. Putting it All Together: Analyzing and Discussing a Case
Issues Regarding Migrant Farm Workers and Their Families
The Case of Jesus Gonzalez
Using the Case Decision-Making Scaffold
Follow-Up on Jesus Gonzalez
References
III. Case Studies in Diversity
6. Race and Ethnicity
Currents Concepts of Race
Race and Ethnic Identity
Racism
The Case of Jim Peterson
The Case of Lisa Golden
References
7. Culture and Language
Definition of Culture
Definition of Language
Cultural and Linguistic Difference
Implications for Education
Native American Mascots
The Case of the Onteora Indian
The Case of Fome Qureshi
References
8. Poverty and Socioeconomic Status
Expectations and Realities
Current Facts
Impact of Poverty on School-Aged Children
State and Federal Provisions
What Can Schools Do?
The Case of Maria Ramirez
The Case of Sue Wilson
References
9. Exceptionality
Issues of Definition, Identification, and Appropriate Programs
The Inclusion Controversy
Creating Inclusive Schools for Students with Disabilities
Issues in the Education of Students Who Are Gifted and Talented
Issues in the Education of Students with Attention Deficit Hyperactivity Disorder
The Case of Selina James
The Case of Matthew Simpson
References
10. Gender
Issues in Gender
Females and Mathematics
African American Females and Mathematics
The Case of Cassie Brown
The Case of Justin Healy
References
11. Sexuality
Issues in Sexuality
Staff Training
The Case of Sam Meyers
Resources
12. Religion
Religious Diversity in the United States
Why Religion is an Issue in Public Schools
Current Religious Issues in Public Schools
The Case of Higher Ground Academy
References
INDEX