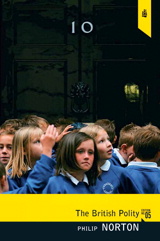 Description
The British Polity is an engaging and comprehensive survey of the structure and process of British government. Offering an insider's analysis, Philip Norton examines the debates surrounding Britain's political history and culture, constitution, parties and elections, branches of government, media, and relations with the European Union. Throughout, The British Polity follows a theme of continuity and change that draws on historical and institutional knowledge and that helps to explain contemporary British politics.
"This is the best book available on British government. Norton explains perfectly how institutions work in practice as well as in theory; he gives a nuanced and balanced picture of both structure and process."–James Alt, Harvard University
Table of Contents
PART I. INTRODUCTION
Chapter 1. The Contemporary Landscape
Chapter 2. The Political Culture
Chapter 3. Past and Present: Historical Perspective and Legacies
PART II. POLITICAL ENVIRONMENT
Chapter 4. The Uncodified Constitution
Chapter 5. The Electoral System: Campaigns, Voting, and Voters
Chapter 6. Political Parties: More or Less than a Two-Party System?
Chapter 7. Interest Groups: Insiders or Outsiders?
PART III. GOVERNMENTAL DECISION MAKING
Chapter 8. The Executive: Government at the Center
Chapter 9. The European Union: Government Above the Center
Chapter 10. The New Assemblies: Government Beyond the Center
Chapter 11. Local Government: Government Below the Center
PART IV. SCRUTINY AND LEGITIMATION
Chapter 12. Parliament: Commons and Lords
Chapter 13. The Monarchy: Above the Fray?
PART V. ENFORCEMENT AND FEEDBACK
Chapter 14. Enforcement: The Courts and the Police
Chapter 15. Communication and Feedback: The Mass Media
PART VI. CONCLUSION
Chapter 16. Future directions: The Polity Under challenge
Purchase Info ?
With CourseSmart eTextbooks and eResources, you save up to 60% off the price of new print textbooks, and can switch between studying online or offline to suit your needs.
Once you have purchased your eTextbooks and added them to your CourseSmart bookshelf, you can access them anytime, anywhere.
Buy Access
British Polity, The, CourseSmart eTextbook, 5th Edition
Format: Safari Book
$37.99 | ISBN-13: 978-0-205-75231-7