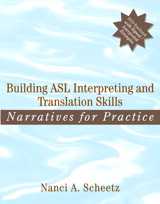 Description
Written in a workbook fashion and designed as a teaching and learning vehicle, Building ASL Interpreting and Translation Skills is for students taking courses in American Sign Language (levels I, II or III), as well as students enrolled in interpreting programs. The written English narratives are designed for translation, interpreting and transliterating with over 80 examples on the companion DVD signed by both native Deaf individuals and nationally certified interpreters.
The book is divided into four parts.
Part I:
The first part of the text consists of 24 chapters that provide readers with an overview of a variety of ASL grammatical features. Each chapter includes an example glossed into ASL to provide students with a model for translation, each of which are signed on the accompanying DVD, followed by narratives for student practice that gradually increase in length and difficulty.
Part II
The second part of the text consists of 20 chapters covering additional grammatical features. The selections become increasingly longer in length. Selections in the first several chapters of Part II are also signed by a Deaf individual on the companion DVD. As the selections become longer, a nationally certified interpreter interprets selected narratives modeling the ASL principle described in the chapter.
Part III:
The third part of the text is devoted to exercises that focus on building automaticity when confronting multiple meaning words, idioms, and college level vocabulary. These selections are longer in length and are designed to provide interpreters with source material that covers a wide variety of topics.
Part IV:
The fourth part of the text includes narratives, lectures, and passages from texts that might be read in a high school or college class.
Table of Contents
Preface
Transcription Symbols

Part I: Selections for Beginning ASL Students

Chapter One: Pronouns, Locations, and Use of Sign Space
Chapter Two: Directional Verbs
Chapter Three: Descriptive Adjectives
Chapter Four: Noun/Verb Pairs
Chapter Five: Topic/Comment
Chapter Six: Negation, Negative Incorporation & Modals
Chapter Seven: Classifiers: Describing Location and Movement
Chapter Eight: Establishing Tense in ASL
Chapter Nine: Age, Time and Counting Numbers
Chapter Ten: Additional Work with Classifiers
Chapter Eleven: Expressing Negatives using None
Chapter Twelve: Additional Work with Noun/Verb Pairs
Chapter Thirteen: Conditionals
Chapter Fourteen: Use of Finish as a Conjunction
Chapter Fifteen: Additional work with Verb Pairs
Chapter Sixteen: Giving Directions in ASL
Chapter Seventeen: Working With Time
Chapter Eighteen: Quantifiers
Chapter Nineteen: Repeatedly, Continually & Reduplication
Chapter Twenty: Changing Adjectives to Indicate Repetition
Chapter Twenty-one: Rhetorical Questions
Chapter Twenty-two: Additional Ways to Form Negatives
Chapter Twenty-three: Additional Work Signing Topics
Chapter Twenty-four: Classifiers that Show Movement and Distance
Part II: Selections for Intermediate ASL Students
Chapter One: Additional Work with Topic/Comment
Chapter Two: Using Reference Points to Mark Locations
Chapter Three: Using Semantic Classifiers to Mark Location & Movement
Chapter Four: Time
Chapter Five: Listing, Grouping, Prioritizing
Chapter Six: Role Shifting
Chapter Seven: Contrasting and Comparing
Chapter Eight: Instrument Classifiers
Chapter Nine: Characterization
Chapter Ten: More Work with Conjunctions
Chapter Eleven: Active/Passive Voice=
Chapter Twelve: Sequencing
Chapter Thirteen: Supplemental Selections
Chapter Fourteen: Supplemental Selections
Chapter Fifteen: Supplemental Selections
Chapter Sixteen: Supplemental Selections
Chapter Seventeen: Supplemental Selections
Chapter Eighteen: Supplemental Selections
Chapter Nineteen: Supplemental Selections
Chapter Twenty: Supplemental Selections
Part III: Multiple Meaning Words, Idioms, and Vocabulary Building
Chapter 1: Run, Down, Call, Make, Look
Chapter 2: Place, Up, Break, Fix, By
Chapter 3: Charge, Advance, Around, Back, Right
Chapter 4: See, Take, Time, About, Raise
Chapter 5: Short, Bank, Fall, Get Out, Line
Chapter 6: Put, Pass, Shake, Pick, On
Chapter 7: After, Bare, Cool, Draw, Meet
Chapter Eight: Box, Blow, Eat, Ring, Jump
Chapter Nine: Out, Use, Over, Kick, Mind
Chapter Ten: Bone, Miss, Low, Cut, Point
Chapter Eleven: Idioms
Chapter Twelve: Additional Work with Idioms
Chapter Thirteen: Additional Work with Idioms
Chapter Fourteen: Additional Work with Idioms
Chapter Fifteen: Working with Idioms
Chapter Sixteen: Vocabulary Building Exercises
Chapter Seventeen: Additional Vocabulary Building Activities
Chapter Eighteen: Additional Vocabulary Building Activities
Chapter Nineteen: Additional Vocabulary Building Activities
Chapter Twenty: Additional Vocabulary Building Activities
Part IV: Selections for Interpreting and Transliterating
Chapter 1
Selection 1.1: Reading Recovery
Selection 1.2: The Wedding
Selection 1.3: Baking Bread
Selection 1.4: Applying for a Job
Selection 1.5: Traveling to Europe
Chapter 2
Selection 2.1: Award Winners
Selection 2.2: Getting Stuck in the Mud
Selection 2.3: Drive through Flu Shots
Selection 2.4: Displays at the Grocery Store
Selection 2.5: Dog Shows
Chapter Three
Selection 3.1: Going Hunting in the Deer Stand
Selection 3.2: Ice Skaters at the World Games
Selection 3.3: Homes of the Rich and Famous
Selection 3.4: Waiting Tables can be Hard Work
Selection 3.5: Children's Games
Chapter Four
Selection 4.1: Slalom on the Ski Slopes
Selection 4.2: The Food Pyramid
Selection 4.3: Graduating From Gallaudet
Selection 4.4: Daisies, Brownies, and Girl Scouts
Selection 4.5: Tim's Trip to the Kennel
Chapter Five
Selection 5.1: Writing a Research Paper
Selection 5.2: Using Examples and Illustrations
Selection 5.3: Working with Students who Need Speech Therapy
Selection 5.4: Comparing and Contrasting
Selection 5.5: My First Grade Santa
Chapter Six
Selection 6.1: Down Home Days
Selection 6.2: Spinal Injury
Selection 6.3: Using All My Smarts
Selection 6.4: Main Processes of the Memory System
Selection 6.5: My Dog
Chapter Seven
Selection 7.1: The Airport
Selection 7.2: The Circle
Selection 7.3: Classrooms Yesterday and Today
Selection 7.4: First Immigration Wave: Mid-1800s to Early 1900s
Selection 7.5: The Smooth
Chapter Eight
Selection 8.1: Terrain and Temperature
Selection 8.2: Music: Originals and Remakes
Selection 8.3: Team Sports
Selection 8.4: Bailey, Hudson and Taz
Selection 8.5: Car Colors
Chapter Nine
Selection 9.1: Coffee Pots versus Single-serving Coffee Containers
Selection 9.2: The Traffic Ticket
Selection 9.3: Video conferencing Technology
Selection 9.4: Candidates for Governor Spout Platforms
Selection 9.5: The Soup Bowls
Chapter Ten
Selection 10.1: Banking Services
Selection 10.2: The Bridal Show
Selection 10.3: Interpreting Math Problems
Selection 10.4: What is expected of the Educational Interpreter in the Elementary Setting?
Selection 10.5: Literacy and the English Language Learner
Chapter Eleven
Selection 11.1: Earl Warren
Selection 11.2: The Solar System
Selection 11.3: Time Zones
Selection 11.4: Flying Kites
Selection 11.5: Rescue from the Third Floor
Chapter Twelve
Selection 12.1: Live versus Automated Phone Customer Service
Selection 12.2: Teaching Deaf Studies in Included Classrooms
Selection 12.3: Cruise Lines Keep Adding New Attractions
Selection 12.4: Teaching Tolerance to Young Children
Selection 12.5: Deaf, Deaf World
Chapter Thirteen
Selection 13.1: The Blizzard
Selection 13.2: Trying out for the Dance Line
Selection 13.3: Bike Across America
Selection 13.4: Cat Lovers
Selection 13.5: The Hundredth Day of School
Chapter Fourteen
Selection 14.1: A Walk in the Woods
Selection 14.2: Barbara the Pig
Selection 14.3: Violet's Tanning Experience
Selection 14.4: The Pizza Party
Selection 14.5: The U Turn
Chapter Fifteen
Selection 15.1: TTY's
Selection 15.2: Working as a Parking Lot Attendant at Disney World
Selection 15.3: Getting Stuck in the Dressing Room
Selection 15.4: The Money Pit
Selection 15.5: Immersion Weekends for Interpreters
Chapter Sixteen
Selection 16.1: Driving on the Ice
Selection 16.2: Instructors
Selection 16.3: The Cruise
Selection 16.4: Adult Day Care
Selection 16.5: Living with Deaf People
Chapter Seventeen
Selection 17.1: Car Shows on MTV
Selection 17.2: Levels of Cognitive Functioning
Selection 17.3: Seasons of the Year
Selection 17.4: How to be a Good Manager
Selection 17.5: Local Fast Food Chain Pushes its New Image
Chapter Eighteen
Selection 18.1: Travels by Renee
Selection 18.2: My Tropical Fish Hobby
Selection 18.3: Jimmy Carter
Selection 18.4: Sky Warn for Deaf
Selection 18.5: Jamaica
Chapter Nineteen
Selection 19.1: Police Chaplain
Selection 19.2: Ham Radio
Selection 19.3: Conduct of Police Officers
Selection 19.4: Death Notification
Selection 19.5: A Story about My Dad
Chapter Twenty
Selection 20.1: Let's Talk about Wales
Selection 20.2: A Lecture regarding Psychosocial Aspects of Deafness
Selection 20.3: Feeding the Hungry across America
Selection 20.4: My Best Friend Emily
Selection 20.5: The Girls