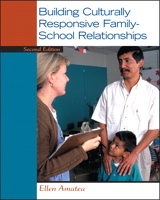 Description
For the Parents/Home-School Relations or Foundations of Home-School Relations courses in Early Childhood Education and Elementary Education.
In the context of the shifting demographic context of schooling in the United States, this research-based text examines how families, schools, and communities interact to influence children's school success. Amatea's collaborative paradigm, first-person accounts, case studies, and self-reflection exercises provide a contemporary choice for courses in family-school relations.
Taking into account economic and cultural diversity as well as exceptionality, Building Culturally Responsive Family-School Relationships presents a collaborative approach for working with all students' families to promote learning and resolve problems throughout the early childhood and elementary school years. The underlying premise is that teachers who embrace and adapt to shifting realities can work toward true partnerships between culturally diverse communities and the schools that serve them.
Grounded in research, this textbook balances theory and application by linking conceptual issues to practical methods in-service and pre-service educators can use—advising them how to take on the often intimidating, yet vital process of forging connections with families by describing specific culturally responsive instructional and non-instructional practices to build relationships characterized by trust, cooperation and motivation.
Amatea's collaborative paradigm, first-person stories, case studies and self-reflection exercises set it apart from other textbooks on the market. It is an essential resource for all school-based practitioners, including teachers, school administrators, school counselors, and special education consultants.
Table of Contents
PART I Changing Family–School Roles and Relationships
Chapter 1 Connecting with Families: A Nice or a Necessary Practice?
Chapter 2 From Separation to Collaboration: The Changing Paradigms of Family–School Relations
Chapter 3 Building Culturally Responsive Family–School Partnerships: Essential Beliefs, Strategies, and Skills
PART II Understanding Families in Their Sociocultural Context
Chapter 4 From Family Deficit to Family Strength: Examining How Families Influence Children's Development and School Success
Chapter 5 Understanding Family Stress and Change
Chapter 6 Equal Access, Unequal Resources: Appreciating Cultural, Social, and Economic Diversity in Families
Chapter 7 Understanding the Impact Communities Have on Children's Learning
PART III Building Family–School Relationships to Maximize Student Learning
Chapter 8 Getting Acquainted with Students' Families
Chapter 9 Using Families' Ways of Knowing to Enhance Teaching and Student Learning
Chapter 10 Fostering Student and Family Engagement in Learning Through Student-Led Parent Conferences
PART IV Building Relationships Through Joint Decision Making and Problem Solving
Chapter 11 Engaging in Collaborative Problem Solving with Families
Chapter 12 Family-Centered Parent Involvement and Shared Decision Making in Special Education Classrooms
Chapter 13 Creating a Support Network for Families in Crisis
Chapter 14 Seeing the Big Picture: Creating a School Climate That
Strengthens Family–School Connections