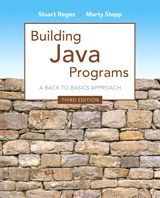 Description
NOTE: You are purchasing a standalone product; MyProgrammingLab does not come packaged with this content. If you would like to purchase both the physical text and MyProgrammingLab search for ISBN-10: 0133437302/ISBN-13: 9780133437300. That package includes ISBN-10: 0133360903/ISBN-13: 9780133360905 and ISBN-10: 0133379787/ISBN-13: 9780133379785.

MyProgrammingLab should only be purchased when required by an instructor.

Building Java Programs: A Back to Basics Approach, Third Edition,
introduces novice programmers to basic constructs and common pitfalls by emphasizing the essentials of procedural programming, problem solving, and algorithmic reasoning. By
using
objects early to solve interesting problems and
defining
objects later in the course,
Building Java Programs
develops programming knowledge for a broad audience.
NEW! This edition is available with MyProgrammingLab, an innovative online homework and assessment tool. Through the power of practice and immediate personalized feedback, MyProgrammingLab helps students fully grasp the logic, semantics, and syntax of programming.
Table of Contents
Chapter 1 Introduction to Java Programming 1
Chapter 2 Primitive Data and Definite Loops 63
Chapter 3 Introduction to Parameters and Objects 136
Supplement 3G Graphics (Optional) 194
Chapter 4 Conditional Execution 234
Chapter 5 Program Logic and Indefinite Loops 311
Chapter 6 File Processing 383
Chapter 7 Arrays 439
Chapter 8 Classes 516
Chapter 9 Inheritance and Interfaces 573
Chapter 10 ArrayLists 648
Chapter 11 Java Collections Framework 701
Chapter 12 Recursion 740
Chapter 13 Searching and Sorting 818
Chapter 14 Stacks and Queues 870
Chapter 15 Implementing a Collection Class 908
Chapter 16 Linked Lists 951
Chapter 17 Binary Trees 1003
Chapter 18 Advanced Data Structures 1057
Appendix A Java Summary 1093
Appendix B The Java API Specification and Javadoc Comments 1108
Appendix C Additional Java Syntax 1114
Enhance your learning experience with text-specific study materials.
Purchase Info
Digital Choices ?
MyLab & Mastering with Pearson eText is a complete digital substitute for a print value pack at a lower price.
MyLab & Mastering ?
MyLab & Mastering products deliver customizable content and highly personalized study paths, responsive learning tools, and real-time evaluation and diagnostics. MyLab & Mastering products help move students toward the moment that matters most—the moment of true understanding and learning.
eTextbook ?
With CourseSmart eTextbooks and eResources, you save up to 60% off the price of new print textbooks, and can switch between studying online or offline to suit your needs.
Once you have purchased your eTextbooks and added them to your CourseSmart bookshelf, you can access them anytime, anywhere.