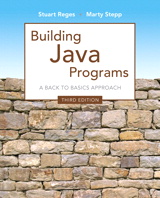 Description
Building Java Programs: A Back to Basics Approach, Third Edition, introduces novice programmers to basic constructs and common pitfalls by emphasizing the essentials of procedural programming, problem solving, and algorithmic reasoning. By using objects early to solve interesting problems and defining objects later in the course, Building Java Programs develops programming knowledge for a broad audience.
Please visit the authors' website at www.buildingjavaprograms.com/ for access to all student and instructor resources, available for no additional cost.
Table of Contents
Chapter 1 Introduction to Java Programming 1
Chapter 2 Primitive Data and Definite Loops 63
Chapter 3 Introduction to Parameters and Objects 136
Supplement 3G Graphics (Optional) 194
Chapter 4 Conditional Execution 234
Chapter 5 Program Logic and Indefinite Loops 311
Chapter 6 File Processing 383
Chapter 7 Arrays 439
Chapter 8 Classes 516
Chapter 9 Inheritance and Interfaces 573
Chapter 10 ArrayLists 648
Chapter 11 Java Collections Framework 701
Chapter 12 Recursion 740
Chapter 13 Searching and Sorting 818
Chapter 14 Stacks and Queues 870
Chapter 15 Implementing a Collection Class 908
Chapter 16 Linked Lists 951
Chapter 17 Binary Trees 1003
Chapter 18 Advanced Data Structures 1057
Appendix A Java Summary 1093
Appendix B The Java API Specification and Javadoc Comments 1108
Appendix C Additional Java Syntax 1114
Purchase Info ?
With CourseSmart eTextbooks and eResources, you save up to 60% off the price of new print textbooks, and can switch between studying online or offline to suit your needs.
Once you have purchased your eTextbooks and added them to your CourseSmart bookshelf, you can access them anytime, anywhere.
Buy Access
Building Java Programs, CourseSmart eTextbook
Format: Safari Book
$61.99 | ISBN-13: 978-0-13-337944-0