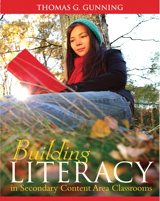 Description
A comprehensive, research-based guide for developing the literacy skills students need to be college- and career-ready, this book incorporates the Common Core State Standards and IRA's 2010 Standards for Reading Professionals.
Practicing and prospective secondary content area teachers get the knowledge and skills they need to develop their students' content literacy in this comprehensive new guide. A balanced combination of both theory and practice, it provides more than 30 sample lessons and more than a dozen examples of exemplary teaching that readers can refer to develop their own content literacy teaching skills. The book incorporates the Common Core State Standards and translates them into suggestions for assessing and teaching a wide range of secondary students, and includes extensive, practical suggestions for working with struggling students and English learners.
Based on the premise that content area teachers have responsibility for teaching all students the reading and writing skills they need to understand and communicate the content of their courses, the book demonstrates how teachers can combine the development of content knowledge, the language and thinking skills required by the discipline, and appropriate learning strategies in their teaching. The emphasis is on building language and background knowledge, the foundations of literacy. Specific suggestions for developing the academic language skills of all students–but especially English language learners–are provided throughout the book.
With its incorporation of a variety of outstanding pedagogical techniques, this guide fosters increased understanding and retention of key concepts and gives readers the chance to become familiar with the techniques so they are prepared to use them with their students.
Table of Contents
Chapter 1: Reading and Writing in the Content Areas: An Introduction
Chapter 2: The Nature and Assessment of Content Area Texts
Chapter 3: Building Content Area Vocabulary
Chapter 4: Comprehension: Processes and Strategies
Chapter 5: Reading to Learn Content
Chapter 6: Collaborative and Cooperative Approaches for Learning
Chapter 7: Study Skills and Strategies
Chapter 8: Writing to Learn
Chapter 9: Teaching Content Area Literacy to Diverse Learners
Chapter 10: Reading and Writing in Language Arts, Social Studies, Art, Music, and World Languages
Chapter 11: Reading and Writing in Science, Math, Technology, and Physical Education
Chapter 12: Using Technology, Trade Books, and Periodicals in the Content Areas
Chapter 13: Evaluating Progress in the Content Areas
Chapter 14: Creating an Effective Content Area Program
Appendix: Morphemic Elements for the Content Areas
Purchase Info ?
With CourseSmart eTextbooks and eResources, you save up to 60% off the price of new print textbooks, and can switch between studying online or offline to suit your needs.
Once you have purchased your eTextbooks and added them to your CourseSmart bookshelf, you can access them anytime, anywhere.
Buy Access
Building Literacy in Secondary Content Area Classrooms, CourseSmart eTextbook
Format: Safari Book
$65.99 | ISBN-13: 978-0-13-702849-8