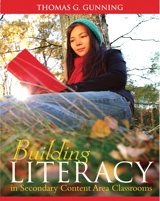 Description
Building Literacy in Secondary Content Area Classrooms by renowned author Thomas Gunning gives practicing and prospective content area teachers the knowledge and skills they need to develop their students' content literacy–and to ensure that these secondary school students are college- and career-ready. Comprehensive and research-based, the book presents a balanced combination of both theory and practice; provides more than a dozen examples of exemplary teaching; includes extensive, practical suggestions for working with struggling students and English language learners; and incorporates the Common Core State Standards and IRA's 2010 Standards for Reading Professionals.
Table of Contents
Chapter 1: Reading and Writing in the Content Areas: An Introduction
Chapter 2: The Nature and Assessment of Content Area Texts
Chapter 3: Building Content Area Vocabulary
Chapter 4: Comprehension: Processes and Strategies
Chapter 5: Reading to Learn Content
Chapter 6: Collaborative and Cooperative Approaches for Learning
Chapter 7: Study Skills and Strategies
Chapter 8: Writing to Learn
Chapter 9: Teaching Content Area Literacy to Diverse Learners
Chapter 10: Reading and Writing in Language Arts, Social Studies, Art, Music, and World Languages
Chapter 11: Reading and Writing in Science, Math, Technology, and Physical Education
Chapter 12: Using Technology, Trade Books, and Periodicals in the Content Areas
Chapter 13: Evaluating Progress in the Content Areas
Chapter 14: Creating an Effective Content Area Program
Appendix: Morphemic Elements for the Content Areas
This title is also sold in the various packages listed below. Before purchasing one of these packages, speak with your professor about which one will help you be successful in your course.
Package ISBN-13: 9780134320212
Includes this title packaged with:
50 Instructional Routines to Develop Content Literacy, 3rd Edition
Douglas Fisher, William G. Brozo, Nancy Frey, Gay Ivey
$178.92 $169.97 | Add to Cart