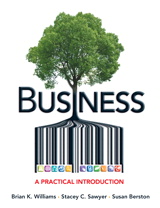 Description
For Introduction to Business courses.
No two Introduction to Business courses are completely alike—they're as different and unique as the educational professionals teaching them. And now, in order to help you create a course based on your personal teaching interests, the new textbook
Business: A Practical Introduction
offers a way to make the choice all yours.
With just a few clicks, the solid Introduction to Business fundamentals of this course can be enhanced to reflect your personal interests. So regardless of whether your interests lie in sustainability or ethics, business skills or social media and technology, you can have a textbook and media solution suited to you and your course needs.
Available with MyBIZLab! No two Introduction to Business classes are the same either—the students you teach change from class to class, as does your approach to accommodate their unique learning styles. The combination of Business: A Practical Introduction with MyBizLab, provides students with access to personalized learning options, while helping you assign, deliver, manage, and assess a meaningful course with ease.
Table of Contents
Part 1: Today's Business Environment
Chapter 1: Starting Out
Chapter 2: Ethics & Social Responsibility
Chapter 3: Economics
Chapter 4: Globalization
Part 2: Starting & Growing a Successful Business
Chapter 5: Forms of Ownership
Chapter 6: The Entrepreneurial Spirit
Part 3: Management: Achieving Superior Results in the Workplace
Chapter 7: Management & Leadership
Chapter 8: The Effective Organization
Chapter 9: Operations Management
Chapter 10: Motivating Employees
Chapter 11: Human Resource Management
Part 4: Marketing
Chapter 12: Marketing
Chapter 13: Product & Pricing Strategies
Chapter 14: Distribution & Promotion Strategies
Part 5: Financial Resources
Chapter 15: Accounting & Finance
Chapter 16: Financial Management
Chapter 17: Securities Markets

Purchase Info ?
With CourseSmart eTextbooks and eResources, you save up to 60% off the price of new print textbooks, and can switch between studying online or offline to suit your needs.
Once you have purchased your eTextbooks and added them to your CourseSmart bookshelf, you can access them anytime, anywhere.
Buy Access
Business: A Practical Introduction, CourseSmart eTextbook
Format: Safari Book
$59.99 | ISBN-13: 978-0-13-234715-0