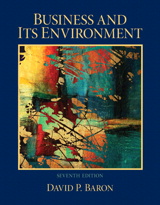 Description
For undergraduate and graduate courses in Business and Public Policy, Business and Society, or Business and Public Responsibility.
Businesses compete in many ways, including nonmarket areas like corporate responsibility. Learn how to sharpen your firm's competitive edge.
Baron's integrated approach combines the disciplines of economics, political science, law, and ethics to provide a deeper understanding of the managerial issues that arise in the business landscape.
The seventh edition includes four new chapters on financial markets and their regulation, the investor's perspective and renewable power, the political economy of India, and behavioral ethics. The book also includes 26 new cases for class discussion of timely topics.
Table of Contents
PART I: STRATEGY AND THE NONMARKET ENVIRONMENT
Chapter 1: Market and Nonmarket Environments
Chapter 2: Integrated Strategy
Chapter 3: The News Media and Nonmarket Issues
Chapter 4: Private Politics
Chapter 5: Crisis Management
PART II PUBLIC POLITICS AND NONMARKET STRATEGY
Chapter 6: Nonmarket Analysis for Business
Chapter 7: Nonmarket Strategies for Government Arenas
Chapter 8: Implementing Nonmarket Strategies in Government Arenas
PART III: GOVERNMENT AND MARKETS
Chapter 9: Antitrust: Economics, Law, and Politics
Chapter 10: Regulation: Law, Economics, and Politics
Chapter 11: Financial Markets and Their Regulation
Chapter 12: Environmental Management and Sustainability
Chapter 13: The Investor's Perspective: Renewable Energy
Chapter 14: Law and Markets
PART IV GLOBAL NONMARKET STRATEGY
Chapter 15: The Political Economy of the European Union
Chapter 16: China: History, Culture, and Political Economy
Chapter 17: Emerging Markets
Chapter 18: The Political Economy of India
Chapter 19: The Political Economy of International Trade Policy
PART V: ETHICS AND CORPORATE SOCIAL RESPONSIBILITY
Chapter 20: Corporate Social Responsibility
Chapter 21: Ethics Systems: Utilitarianism
Chapter 22: Ethics Systems: Rights and Justice
Chapter 23: Behavioral Ethics, Individuals, and Management
Chapter 24: Ethics Issues in International Business
Purchase Info ?
With CourseSmart eTextbooks and eResources, you save up to 60% off the price of new print textbooks, and can switch between studying online or offline to suit your needs.
Once you have purchased your eTextbooks and added them to your CourseSmart bookshelf, you can access them anytime, anywhere.
Buy Access
Business and Its Environment, CourseSmart eTextbook, 7th Edition
Format: Safari Book
$111.99 | ISBN-13: 978-0-13-262057-4