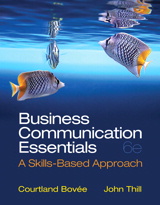 Description
For Business Communication courses.

Prepare students for the demands they'll face on the job.

Only Bovée/Thill texts thoroughly address the new-media skills that employees are expected to have in today's business environment. Business Communication Essentials presents these technologies in the context of proven communication strategies and essential business English skills.
Table of Contents
UNIT 1. BUSINESS COMMUNICATION FOUNDATIONS 
1. Understanding Business Communication in Today's Workplace
2. Mastering Team Skills and Interpersonal Communication
UNIT 2. THE THREE-STEP WRITING PROCESS 
3. Planning Business Messages
4. Writing Business Messages
5. Completing Business Messages
UNIT 3. BRIEF BUSINESS MESSAGES
6. Crafting Messages for Electronic Media
7. Writing Routine and Positive Messages
8. Writing Negative Messages
9. Writing Persuasive Messages
UNIT 4. LONGER BUSINESS MESSAGES 
10. Understanding and Planning Reports and Proposals
11. Writing and Completing Reports and Proposals
12. Developing Oral and Online Presentations
UNIT 5. EMPLOYMENT MESSAGES AND JOB INTERVIEWS 
13. Building Careers and Writing Résumés
14. Applying and Interviewing for Employment
Appendix A. Format and Layout of Business Documents
Appendix B. Documentation of Report Sources
Appendix C. Correction Symbols
Handbook of Grammar, Mechanics, and Usage
Purchase Info ?
With CourseSmart eTextbooks and eResources, you save up to 60% off the price of new print textbooks, and can switch between studying online or offline to suit your needs.
Once you have purchased your eTextbooks and added them to your CourseSmart bookshelf, you can access them anytime, anywhere.
Buy Access
Business Communication Essentials, CourseSmart eTextbook, 6th Edition
Format: Safari Book
$74.99 | ISBN-13: 978-0-13-297206-2