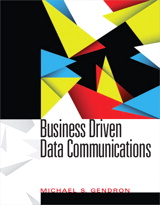 Description
For undergraduate and graduate courses in data communications, telecommunications, and networking.
A business-driven approach to understanding data communications.
Explaining the why and how of data communications, Michael Gendron's new textbook, Business Driven Data Communications, takes a business-driven infrastructure design approach—rather than solely focusing on a technical networking approach. Overall, this text presents technical material within the focus of business process support and infrastructure design.
Table of Contents
Unit 1: ICT Infrastructure Components; a Technical Overview
Chapter 1: ICT Infrastructure Introductory Concepts
Chapter 2: Building the Local Area Network Using Ethernet
Chapter 3: Extending the LAN through WAN Connections
Chapter 4: Wrapping up Service, User and Enterprise User Components
Unit 2: Additional ICT Concepts
Chapter 5: Obtaining Services Through Cloud Computing
Chapter 6: Security
Unit 3: Understanding the Business of Infrastructure Design
Chapter 7: Infrastructure and the Enterprise
Chapter 8: Business Processes
Chapter 9: Assessing the Business Value of ICT Resource Investments
Unit 4: Steps to the Strategic Alignment of IT
Chapter 10: Analyzing the Organization and its Environment
Chapter 11: Designing ICT: Documenting Process and Technology Recommendations
Chapter 12: Summarizing the Business Driven Infrastructure Design Cycle: Analysis, Design, Implementation and Post-Implementation
Purchase Info ?
With CourseSmart eTextbooks and eResources, you save up to 60% off the price of new print textbooks, and can switch between studying online or offline to suit your needs.
Once you have purchased your eTextbooks and added them to your CourseSmart bookshelf, you can access them anytime, anywhere.
Buy Access
Business Driven Data Communications, CourseSmart eTextbook
Format: Safari Book
$66.99 | ISBN-13: 978-0-13-225127-3