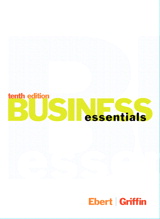 Description
Business Essentials
continues to provide a solid foundation of the essential topics in business. Its focus on practical skills, knowledge of the basics, and important developments in business makes for a brief book, but a rich experience.
The recent events in domestic and global economies are presenting unprecedented challenges, excitement, and disappointments for business—and a need for a change in the Introduction to Business course and text. This text captures the widespread significance of these developments and presents their implications on businesses today.
MyBizLab
for
Business Essentials
is a total learning package. MyBizLab is an online homework, tutorial, and assessment program that truly engages students in learning. It helps students better prepare for class, quizzes, and exams—resulting in better performance in the course—and provides educators a dynamic set of tools for gauging individual and class progress.
This program will provide a better teaching and learning experience–for you and your students. Here's how:
Personalize Learning with MyBizLab: Inspire the exchange of new ideas and foster intriguing discussions with the abundant resources found in MyBizLab.
Real World Business Practices Focus: An abundance of the latest real world business developments and examples provide clear illustrations of business concepts and current dilemmas, and every chapter shows how basic practices apply not only in business upswings, but also during economically challenging times as well.
Help Students Review and Apply Concepts: Examples and exercises allow students to see how entrepreneurs are putting into practice the concepts that they are learning.
Keep Your Course Current and Relevant: New examples, research findings, and examples appear throughout the text.
Note: You are purchasing a standalone product; MyBizLab does not come packaged with this content. If you would like to purchase both the physical text and MyBizLab search for ISBN-10: 0133771555/ISBN-13: 9780133771558. That package includes ISBN-10: 0133454428/ISBN-13: 9780133454420 and ISBN-10: 0133456358/ISBN-13: 9780133456356.
MyBizLab is not a self-paced technology and should only be purchased when required by an instructor.
Table of Contents
I. The Contemporary Business World
1. The U.S. Business Environment
2. Understanding Business Ethics and Social Responsibility
3. Entrepreneurship, New Ventures, and Business Ownership
4. Understanding the Global Context of Business

II. The Business of Managing
5. Managing the Business
6. Organizing the Business
7. Operations Management and Quality for Producing Goods and Services

III. People in Organizations
8. Employee Behavior and Motivation
9. Leadership and Decision Making
10. Human Resource Management and Labor Relations

IV. Principles of Marketing: Building Relationships with Customers for Competitive Advantage
11. Marketing Processes and Consumer Behavior
12. Developing and Pricing Products
13. Distributing and Promoting Products

V. Managing Information for Better Business Decisions
14. Information Technology (IT) for Business
15. The Role of Accountants and Accounting Information

VI. The Financial System and Issues in Financial Management
16. Understanding Money and the Role of Banking
17. Managing Business Finances

Appendix I: Risk Management
Appendix II: The Legal Context of Business
Appendix III: Managing Your Personal Finances
Appendix IV: Unions and Labor Management
This title is also sold in the various packages listed below. Before purchasing one of these packages, speak with your professor about which one will help you be successful in your course.
Package ISBN-13: 9780134271118
Includes this title packaged with:
MyBizLab with Pearson eText -- Access Card -- for Business Essentials, 10th Edition
Ronald J. Ebert, Ricky W. Griffin
$117.27 | Add to Cart
Package ISBN-13: 9780134427966
Includes this title packaged with:
Interpretive Simulations Access Code Card Group A
INTERPRETIVE
MyBizLab with Pearson eText -- Access Card -- for Business Essentials, 10th Edition
Ronald J. Ebert, Ricky W. Griffin
$133.07 | Add to Cart