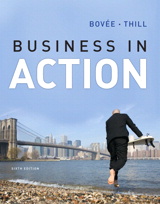 Description
For courses in Introduction to Business.
An introduction to business text can be complete without being complex and overwhelming—and this text proves it!
Business in Action is uniquely positioned to help today's students become tomorrow's focused, highly productive business professionals. It is the only introduction to business text that emphasizes efficient, focused, objectives-driven learning in every aspect.
Purchase Info ?
With CourseSmart eTextbooks and eResources, you save up to 60% off the price of new print textbooks, and can switch between studying online or offline to suit your needs.
Once you have purchased your eTextbooks and added them to your CourseSmart bookshelf, you can access them anytime, anywhere.
Buy Access
Business in Action, CourseSmart eTextbook, 6th Edition
Format: Safari Book
$60.99 | ISBN-13: 978-0-13-282896-3