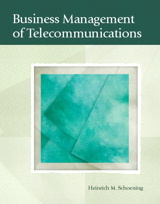 Description
For courses in Electronic Communications, Telecommunications Management, and Business Management in Electronic and Computer Technology or Business departments.
With the increasing necessity of today's use of telecommunications technologies, businesses need to manage their telecommunications effectively to derive the benefits—to do this, it requires the use of skilled managers. This book provides readers with a well-balanced mix of material to develop both strong business management and technology management skills necessary to become successful telecommunications managers. The text illustrates this by using business management tools and techniques to manage a company's telecommunications function, thereby maximizing benefits and minimizing associated costs.
Table of Contents
I. TELECOMMUNICATIONS MANAGEMENT BASICS.
1. Telecommunications Management Overview.
2. What is Telecommunications?
3. What is Telecommunications Management?
4. Criteria For Managerial Success.
5. Telecommunications Manager Skill Requirements.
II. TELECOMMUNICATIONS PLANNING.
6. What is Enterprise Planning?
7. Managerial Tools and Techniques.
8. Business Management Skills.
9. Technology Management Skills.
10. Telecommunications Planning—A Case Study.
III. PROJECT MANAGEMENT.
11. What is Project Management?
12. Critical Path Method Concepts.
13. Project Organization.
14. Project Management: A Case Study.
IV. OPERATIONS MANAGEMENT.
15. What is Operations Management?
16. Developing an Operating Plan.
17. Managing Operations.
18. Operations Management: A Case Study.
V. ACQUISITION MANAGEMENT.
19. Purchasing Process Overview.
20. Purchasing Products and Services.
21. Evaluating Acquisition Options.
22. Acquisition Management: A Case Study.
APPENDIX.
A. Personal Computing For Managers.
B. Microsoft Project—Another Personal Computing Tool.
C. Job Descriptions and Performance Appraisals.
D. Present Value of $1.00.
Bibliography.
Glossary.
Index.
Purchase Info ?
With CourseSmart eTextbooks and eResources, you save up to 60% off the price of new print textbooks, and can switch between studying online or offline to suit your needs.
Once you have purchased your eTextbooks and added them to your CourseSmart bookshelf, you can access them anytime, anywhere.
Buy Access
Business Management of Telecommunications, CourseSmart eTextbook
Format: Safari Book
$84.99 | ISBN-13: 978-0-13-128779-2