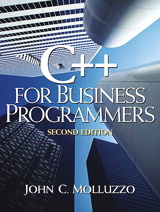 Description
For introductory courses teaching C++ programming for business.
This text provides a student-friendly, highly readable introduction to C++ programming for beginning programming students, especially those majoring in Information Systems and Business. It guides readers through complete and clear descriptions of sample programs, with a wealth of exercises included along the way to help reinforce the important points of each chapter. Throughout the text, a strong emphasis is placed on business applications, rather than those in mathematics or computing.
Table of Contents
I. Basic C++
1. Introduction to C++
2. Real Numbers
3. Iteration
4. Decision Making
5. Functions
6. Arrays
7. Pointers and C-Strings
8. Pointers, Arrays, and Functions
9. User-Defined Data Types and Tables
II. Object-Oriented Concepts and Programming
10. The string Class; An Introduction to Classes and Objects
11. Programmer-Defined Classes and Objects
12. Manipulating Objects
13. Inheritance
14. Files
15. Special Topics; Friends, Operator Overloading, Macros and Inline Functions
Appendices
A. Computers and Data
B. Program Control
Index
Purchase Info ?
With CourseSmart eTextbooks and eResources, you save up to 60% off the price of new print textbooks, and can switch between studying online or offline to suit your needs.
Once you have purchased your eTextbooks and added them to your CourseSmart bookshelf, you can access them anytime, anywhere.
Buy Access
C++ for Business Programmers, CourseSmart eTextbook, 2nd Edition
Format: Safari Book
$71.99 | ISBN-13: 978-0-13-128899-7