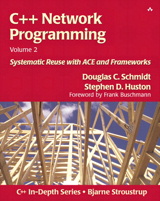 Description
Do you need to develop flexible software that can be customized quickly? Do you need to add the power and efficiency of frameworks to your software? The ADAPTIVE Communication Environment (ACE) is an open-source toolkit for building high-performance networked applications and next-generation middleware. ACE's power and flexibility arise from object-oriented frameworks, used to achieve the systematic reuse of networked application software. ACE frameworks handle common network programming tasks and can be customized using C++ language features to produce complete distributed applications.
C++ Network Programming, Volume 2, focuses on ACE frameworks, providing thorough coverage of the concepts, patterns, and usage rules that form their structure. This book is a practical guide to designing object-oriented frameworks and shows developers how to apply frameworks to concurrent networked applications. C++ Networking, Volume 1, introduced ACE and the wrapper facades, which are basic network computing ingredients. Volume 2 explains how frameworks build on wrapper facades to provide higher-level communication services.
Written by two experts in the ACE community, this book contains:
An overview of ACE frameworks
Design dimensions for networked services
Descriptions of the key capabilities of the most important ACE frameworks
Numerous C++ code examples that demonstrate how to use ACE frameworks
C++ Network Programming, Volume 2, teaches how to use frameworks to write networked applications quickly, reducing development effort and overhead. It will be an invaluable asset to any C++ developer working on networked applications.
Table of Contents
(NOTE:
Chapters 3-9 begin with an Overview and each chapter concludes with a Summary.
)
Foreword.
About This Book.
1 Object-Oriented Frameworks for Network Programming.
An Overview of Object-Oriented Frameworks.
Comparing Software Development and Reuse Techniques.
Applying Frameworks to Network Programming.
A Tour through the ACE Frameworks.
Example: A Networked Logging Service.
2 Service and Configuration Design Dimensions.
Service and Server Design Dimensions.
Configuration Design Dimensions.
3 The ACE Reactor Framework.
The ACE Time Value Class.
The ACE Event Handler Class.
The ACE Timer Queue Classes.
The ACE Reactor Class.
4 ACE Reactor Implementations.
The ACE Select Reactor Class.
The ACE TP Reactor Class.
The ACE WFMO Reactor Class.
5 The ACE Service Configurator Framework.
The ACE Service Object Class.
The ACE Service Repository Classes.
The ACE Service Config Class.
6 The ACE Task Framework.
The ACE Message Queue Class.
The ACE Task Class.
7 The ACE Acceptor-Connector Framework.
The ACE Svc Handler Class.
The ACE Acceptor Class.
The ACE Connector Class.
8 The ACE Proactor Framework.
The Asynchronous I/O Factory Classes.
The ACE Handler Class.
The Proactive Acceptor-Connector Classes.
The ACE Proactor Class.
9 The ACE Streams Framework.
The ACE Module Class.
The ACE Stream Class.
Glossary.
Bibliography.
Index. 0201795256T11042002
Purchase Info
ISBN-10: 0-13-265191-2
ISBN-13: 978-0-13-265191-2
Format: eBook (Watermarked)?
This eBook includes the following formats, accessible from your Account page after purchase:
EPUBThe open industry format known for its reflowable content and usability on supported mobile devices.
MOBIThe eBook format compatible with the Amazon Kindle and Amazon Kindle applications.
PDFThe popular standard, used most often with the free Adobe® Reader® software.
This eBook requires no passwords or activation to read. We customize your eBook by discreetly watermarking it with your name, making it uniquely yours.
Includes EPUB, MOBI, and PDF
$51.99
Add to Cart