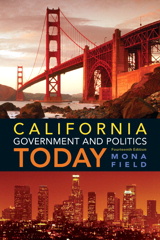 Description
Updated in its 14th edition, California Government and Politics Today focuses on ethnic and cultural diversity, the global economy's impact on California (and vice versa), and the emphasis on political involvement as an essential component of achieving the California Dream. This new edition continues a tradition of scholarly and practical coverage of California government.

Table of Contents
CHAPTER 1: California Politics in Perspective
CHAPTER 2: The Californians: Land, People, and Political Culture
CHAPTER 3: California's Historical Development
CHAPTER 4: Freedom and Equality: California's Delicate Balance
CHAPTER 5: Media Influences and Interest Groups
CHAPTER 6: Political Parties and Other Voluntary Organizations
CHAPTER 7: Campaigns and Elections: Too Many?
CHAPTER 8: The California Legislature
CHAPTER 9: California's Plural Executive: Governor Plus Seven
CHAPTER 10: Paying the Bills: California's Budget Struggles
CHAPTER 11: California Courts and Judges
CHAPTER 12: Criminal Justice and Civil Law
CHAPTER 13: City Governments: Providing the Basics
CHAPTER 14: Counties, Special Districts, and Education K-Graduate
CHAPTER 15: Challenges for California's Future

APPENDIX A: Directory of Political Organizations That Anyone Can Join
APPENDIX B: California State Offices
APPENDIX C: How to Get in Touch with Your Elected Officials

This title is also sold in the various packages listed below. Before purchasing one of these packages, speak with your professor about which one will help you be successful in your course.