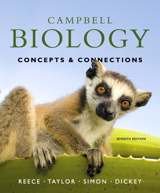 Description
Cutting edge information that connects biology to students' lives. Campbell Biology: Concepts & Connections, Seventh Edition–Go Wild!
Campbell Biology: Concepts & Connections, Seventh Edition–always accurate, always current, and always the most pedagogically innovative non-majors biology text. This bestselling text has undergone an extensive revision to make biology even more approachable with increased use of analogies, real world examples, and more conversational language. Using over 200 new MasteringBiology activities that were written by the dynamic author team, your students arrive for class prepared. The book and MasteringBiology together create the classroom experience that you imagined in your wildest dreams.
Enhance your learning experience with text-specific study materials.
This title is also sold in the various packages listed below. Before purchasing one of these packages, speak with your professor about which one will help you be successful in your course.
Purchase Info
Digital Choices
MyLab & Mastering ?
MyLab & Mastering products deliver customizable content and highly personalized study paths, responsive learning tools, and real-time evaluation and diagnostics. MyLab & Mastering products help move students toward the moment that matters most—the moment of true understanding and learning.
eTextbook ?
With CourseSmart eTextbooks and eResources, you save up to 60% off the price of new print textbooks, and can switch between studying online or offline to suit your needs.
Once you have purchased your eTextbooks and added them to your CourseSmart bookshelf, you can access them anytime, anywhere.
Print Choices
Loose Leaf Version ?
Books a la Carte are less-expensive, loose-leaf versions of the same textbook.