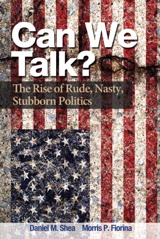 Description
From legislative dynamics to political campaigns to simple political conversations, many have suggested that how we do politics in America has moved in an ugly direction. In this unique and timely volume leading scholars and journalists examine this potentially serious transformation in American politics. Some believe American politics has become nasty, rude and absolutist. The selections in Can We Talk? are intended to begin a conversation among students and to inspire broad thinking about an important shift in the tone of political discourse.
Table of Contents
Preface
Chapter 1: Can We Talk? The Rise of Rude, Nasty, Stubborn Politics by Daniel M. Shea and Morris P. Fiorina
Chapter 2: The Powerful—if Elusive—Nature of Civility by Susan Herbst
Chapter 3: What Is Civil Engaged Argument and Why Does Aspiring to It Matter? by Kathleen Hall Jamieson and Bruce W. Hardy
Chapter 4: Calls for Civility: An Invitation to Deliberate or a Means of Political Control? by J. Cherie Strachan and Michael R. Wolf
Chapter 5: The Uncivil and the Incendiary by Todd Gitlin
Chapter 6: Television and Uncivil Political Discourse by Diana C. Mutz
Chapter 7: Our Tribal Nature and the Rise of Nasty Politics by Daniel M. Shea
Chapter 8: Presidents, Partisans, and Polarized Politics by Gary C. Jacobson
Chapter 9: Partisan Polarization and Satisfaction with Democracy by John H. Aldrich
Chapter 10: Party Homogeneity and Contentious Politics by Morris P. Fiorina
Chapter 11: Polarized by Design: The Modern-Day Congress by Juliet Eilperin
Chapter 12: The News Media and The Rise of Negativity in Presidential Campaigns: A New Hypothesis by John Geer
Chapter 13: Incivility in American Politics: Where it Comes From and What we Can Do About It by William A. Galston
Chapter 14: The Consequences of Uncivil Discourse for the Political Process by L. Sandy Maisel



Purchase Info ?
With CourseSmart eTextbooks and eResources, you save up to 60% off the price of new print textbooks, and can switch between studying online or offline to suit your needs.
Once you have purchased your eTextbooks and added them to your CourseSmart bookshelf, you can access them anytime, anywhere.
Buy Access
Can We Talk?: The Rise of Rude, Nasty, Stubborn Politics, CourseSmart eTextbook
Format: Safari Book
$17.99 | ISBN-13: 978-0-205-88520-6