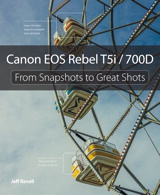 Description
The Canon EOS T5i / 700D is a powerful new camera intended for amateurs to semi-professionals who want to jump into photography with the control and capabilities of a DSLR.
While the camera manual explains what the camera can do, it doesn't show exactly how to use the camera to create great images! That's where Canon EOS T5i / 700D: From Snapshots to Great Shots comes in. Starting with the top ten things users need to know about the camera, author Jeff Revell carefully guides readers through the operating features. Readers get practical advice from a pro on which settings to use when, great shooting tips, and end of chapter assignments.
From Snapshots to Great Shots is a beautiful how-to photography series that provides the perfect blend of instruction, inspiration, and reference for specific camera models and photography concepts. Featuring a clear, elegant design; outstanding images that educate and inspire; and a friendly, accessible voice, this series helps photographers get great shots every time they pick up their camera.
The EOS T5i / 700D features include:
18MP APS-C 'Hybrid CMOS' sensor
Phase-detection AF from imaging sensor for Live View and Video
Continuous autofocus in movie mode with subject tracking
New 18-55mm STM kit lens with stepper motor for improved live view/video autofocus
14-bit DIGIC 5 processor
ISO 100-12800 standard, 25600 expanded
5 fps continuous shooting
9 point AF system, all sensors cross type, central sensor F2.8 (from 60D)
63 zone iFCL metering
1080p30 video recording, stereo sound with internal or external mics
1.04m dot 3:2 touch-sensitive vari-angle ClearView II LCD (capacitative type)
Table of Contents
Chapter 1: The T5i Top Ten List
Ten Tips to Make Your Shooting More Productive Right Out of the Box
Chapter 2: First Things First
A Few Things to Know and Do Before You Begin Taking Pictures
Chapter 3: The Basic Zone
Get More with the Automatic Camera Modes
Chapter 4: The Creative Zone
Taking Your Photography to the Next Level
Chapter 5: Moving Target
The Tricks to Shooting Sports and More
Chapter 6: Say Cheese!
Settings and Features to Make Great Portraits
Chapter 7: Landscape Photography
Tips, Tools, and Techniques to Get the Most Out of Your Landscape Photography
Chapter 8: Mood Lighting
Shooting When the Lights Get Low
Chapter 9: Creative Compositions
Improve Your Pictures with Sound Compositional Elements
Chapter 10: Advanced Techniques
Impress Your Family and Friends
Purchase Info ?
With CourseSmart eTextbooks and eResources, you save up to 60% off the price of new print textbooks, and can switch between studying online or offline to suit your needs.
Once you have purchased your eTextbooks and added them to your CourseSmart bookshelf, you can access them anytime, anywhere.
Buy Access
Canon EOS Rebel T5i / 700D: From Snapshots to Great Shots,CourseSmart eTextbook
Format: Safari Book
$12.49 | ISBN-13: 978-0-13-349154-8