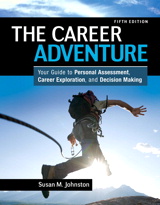 Description
TECHNOLOGY OFFERING: MyStudentSuccessLab is available with this book upon request. It is an online solution designed to help students 'Start strong, Finish stronger' by building skills for ongoing personal and professional development. Go to http://mystudentsuccesslab.com/mssl3 for a Point and Click DEMO of the Time Management module.
Table of Contents
I. SELF-ASSESSMENT: LEARNING ABOUT YOURSELF.
1. Creating Your Dream.
2. Discovering Yourself: Motivations, Life Stages, and Values.
3. Continuing Your Self-Discovery: Skills, Personality, and Interests.
II. CAREER EXPLORATION: LEARNING ABOUT THE WORLD OF WORK.
4. Exploring the World of Work.
5. Networking: Establishing Contacts and Support.
6. Decision Making and Goal Setting.
III. THE JOB CAMPAIGN: ORGANIZING YOUR SEARCH.
7. Designing Your Resume and Cover Letters.
8. Interviewing with Confidence.
9. Developing Job Leads.
10. Continuing Your Adventure.
Appendix A: Sample Resumes and Cover Letters.
References.
Index.