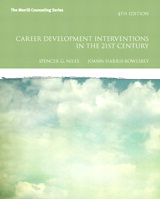 Description
Note: This is the bound book only and does not include access to MyCounselingLab®. To order MyCounselingLab® packaged with the bound book, use ISBN 0134297318.
Organized around the National Career Development Association's competencies and the American Counseling Association's Code of Ethics and Standards of Practice, this top-selling text presents theories, assessments, planning tools, resources, and technologies relevant to modern career development. With four chapters devoted to career development in educational settings, this book analyzes the aspects of career development interventions for the elementary, middle and high school, higher ed, and community audiences. Also provided are strategies for implementing career counseling techniques and creating and designing career development programs.
Also available with MyCounselingLab®
This title is also available with MyCounselingLab–an online homework, tutorial, and assessment program designed to work with the text to engage students and improve results. Within its structured environment, students see key concepts demonstrated through video clips, practice what they learn, test their understanding, and receive feedback to guide their learning and ensure they master key learning outcomes.
Table of Contents
CHAPTER 1: Introduction to Career Development Interventions
The Meaning of Work Across Time
Linking Work with Worth
Providing Systematic Career Development Interventions
Definition of Terms
Career
Career Development
Career Development Interventions
Career Counseling
Career Education
Career Development Programs
Important Events in the History of Career Development Interventions
Frank Parsons
Future Trends in Career Development Interventions
View Career Decisions as Values-Based Decisions
Move Beyond Objective Assessment
Move to Counseling-Based Career Assistance
Move to a Stronger Emphasis on Multicultural Career Development Theories and Interventions
Move to Focusing on Multiple Life Roles
Summary
References

CHAPTER 2: Understanding and Applying Theories of Career Development
Career Development Theories
Super's Life-Span, Life-Space Theory
Life Span
Life Space
Self-Concepts
Applying Super's Theory
Contextual Factors Influencing Life-Role Salience
Evaluating Super's Theory
Linda Gottfredson's Theory of Circumscription, Compromise, and Self-Creation
Stage One: Orientation to Size and Power
Stage Two: Orientation to Sex Roles
Stage Three: Orientation to Social Valuation
Stage Four: Orientation to the Internal, Unique Self
Applying Gottfredson's Theory to Practice
Evaluating Gottfredson's Theory
John Holland's Theory of Types and Person-Environment Interactions
The Realistic Type
The Investigative Type
The Artistic Type
The Social Type
The Enterprising Type
The Conventional Type
Congruence
Differentiation
Consistency
Vocational Identity
Applying Holland's Theory
Evaluating Holland's Theory
John Krumboltz's Learning Theory of Career Counseling
SLTCDM
The Learning Theory of Career Counseling
Applying LTCC
Evaluating Career Development Interventions
Evaluating LTCC
Summary
References

CHAPTER 3: Understanding and Applying Recent Theories of Career Development
Recent Theories
Lent, Brown, and Hackett's Social Cognitive Career Theory
Applying SCCT
Evaluating SCCT
The Cognitive Information Processing Approach
Applying the CIP Approach
Evaluating CIP
Brown's Values-Based, Holistic Model of Career and Life-Role Choices and Sat-isfaction
Applying the Values-Based Approach
Evaluating the Values-Based Approach
Hansen's Integrative Life Planning
Applying ILP
Evaluating ILP
Postmodern Approaches
Creating Narratives
Contextualizing Career Development
Constructivist Career Counseling
Summary
References

CHAPTER 4: Providing Culturally Competent Career Development Interventions
Traditional Assumptions of Career Theories in the United States
Universal Versus Culture-Specific Models
Ethnocentrism
Acculturation
Identity Development Models
Racial Identity Models
Gender Identity Models
Gay/Lesbian/Bisexual Identity Models
Persons with Disabilities
Assessment
Summary
References

CHAPTER 5: Assessment and Career Planning
The Relationship of Assessment to the Career Planning Process
Step 1: Become Aware of the Need to Make Career Decisions
Step 2: Learn About or Reevaluate Vocational Self-Concept
Step 3: Identify Occupational Alternatives
Step 4: Obtain Information About Identified Alternatives
Step 5: Make Tentative Choices from Among Available Occupations
Step 6: Make Educational Choices
Step 7: Implement a Vocational Choice
Purposes of Assessment
Learning More about the Needs of the Student or Client
Learning More about Clients and Helping Them Learn More about Them-selves
Determining the Change or Progress of an Individual or Group
Responsibilities and Competencies of the Counselor
Possess a General Knowledge about Assessment
Have Detailed Knowledge about the Instruments Used
Evaluate the Instrument for Usefulness with Diverse Populations
Prepare Students or Clients Adequately
Administer Instruments Properly
Interpret Instruments Properly
Follow Through with Clients
Informal Assessments
Formal Assessments
Types of Formal Assessments
Ways in Which Assessment Instruments May Be Administered
Types of Reports
Selection of Instruments
Summary
References

CHAPTER 6: Career Information and Resources
The Counselor's Role in Providing Data
Barriers and Decision Styles
Career Information and Diversity
The Client's Role in Receiving Data
Types of Data Needed by Clients
Programs of Study
Occupations
Schools
Financial Aid
Jobs
Other Methods of Collecting Data
Organizing Occupations
The Holland System
The World-of-Work Map
The Guide to Occupational Exploration Clusters
O*Net Classification System
U.S. Department of Education (now called the States') Career Clusters
The Career Center
Helping Clients Turn Data Into Information
Summary
References

CHAPTER 7: Using Technology to Support Career Counseling and Planning
Computer-Assisted Career Guidance Systems
Computer Capabilities
Adding High Touch to High Tech
The Internet as the Deliverer of Computer-Assisted Systems
Types of Computer-Assisted Systems
Assessment Systems
Career Information Systems
Career Planning Systems
Choosing a Computer-Assisted Career Guidance System
The Counselor and the Computer
Session 1: Encounter and Exploration Stage
Session 2: Working Stage
Session 3: Action Stage
Issues Related to Cybercounseling
Summary
References

CHAPTER 8: Career Counseling Strategies and Techniques for the 21st Century
Expanding the Limited View of Career Counseling
Career Counseling in the 21st Century
Designing Career Counseling Strategies for the 21st Century
Providing Counseling-Based Career Assistance
Providing Support in Career Counseling
A Framework for Career Counseling
The Beginning or Initial Phase of Career Counseling
The Middle or Working Phase of Career Counseling
The Ending or Termination Phase of Career Counseling
Career Counseling Groups
Career Counseling Professional Designations and Related Service Providers
Summary
References

CHAPTER 9: Designing, Implementing, and Evaluating Career Development Programs and Services
Steps for Designing and Implementing a Career Development Program
Step 1: Define the Target Population and Its Characteristics
Step 2: Determine the Needs of the Target Population
Step 3: Write Measurable Objectives to Meet Needs
Step 4: Determine How to Deliver the Career Planning Services
Step 5: Determine the Content of the Program
Step 6: Determine the Cost of the Program
Step 7: Begin to Promote and Explain Your Services
Step 8: Start Promoting and Delivering the Full-Blown Program of Ser-vices
Step 9: Evaluate the Program
Planning Evaluation
Stakeholders
Types of Data Collected
Benchmarks for Evaluation
Methods of Evaluation
Using the Results of Evaluation
Roadblocks to Evaluation
Step 10: Revise the Program as Needed
Some Sample Programs
Example 1: A Middle School
Example 2: A High School
Example 3: A University
Example 4: A Corporation
Example 5: A Community Agency
Summary
References

CHAPTER 10: Career Development Interventions in the Elementary Schools
Overview of Career Development Interventions in the Schools
Systematic and Coordinated Planning for Career Development Programs in the Schools
Career Development in the Elementary Schools
Goals of Career Development Interventions at the Elementary School Level
Career Development Interventions in the Elementary Schools
Parental Involvement
Summary
References

CHAPTER 11: Career Development Interventions in Middle and High Schools
Middle/Junior High School
Career Development Goals for Middle/Junior High School Students
Career Development Interventions in Middle/Junior High Schools
High School
Career Development Goals for High School Students
Career Development Interventions in High Schools
Summary
References

CHAPTER 12: Career Development Interventions in Higher Education
The Career Needs of Higher Education Students
The Evolution of Career Development Interventions in Higher Education
Career Development Competencies in Adulthood
Self-Knowledge
Education and Occupational Exploration
Career Planning
Models, Services, and Standards for Career Development Interventions in Higher Education
Models
Services
Standards
Managing Career Services in Higher Education
Summary
References

CHAPTER 13: Career Development Interventions in Community Settings
Training, Certification, and Licensure
Competencies
Coordination
Consultation
Advocacy
Case Management
Similarities and Differences in Community-Based Settings
Settings for Community-Based Career Counselors
Private Practice
The World Wide Web: Cybercounseling
Mental Health Centers
Substance Abuse Centers
Rehabilitation Settings
Corrections and Probation
Military Settings
Job Service Offices and One-Stop Centers
Corporations and Other Organizations
Summary
References

CHAPTER 14: Ethical Issues in Career Development Interventions
Ethical Dilemmas Versus Moral Temptations
Using Principles to Resolve Ethical Decisions
The Role of Values in Defining Career Development Interventions
Using Ethical Codes
Progress on Ethical Challenges Facing Career Counselors
Are All Individual Career Interventions Governed by the Same Ethical Stan-dards?
Should Those Without Traditional Training and Credentials As Professional Counselors Provide Career Services?
How Should the Internet Be Used in Career Development Interventions?
The Ethical Standards of the NCDA
Section A: The Professional Relationship
Section B: Confidentiality, Privileged Communication, and Privacy
Section C: Professional Responsibility
Section D: Relationships with Other Professionals
Section E: Evaluation, Assessment, and Interpretation
Section F: Use of the Internet in Career Services
Section G: Supervision, Training, and Teaching
Section H: Research and Publication
Section I: Resolving Ethical Issues
Summary
References

APPENDIX A- American Counseling Association Code of Ethics and Standards of Practice

APPENDIX B- National Career Development Association Ethical Standards
APPENDIX C Educational and Career Planning Portfolio
APPENDIX D Career Counseling Competencies of the National Career Development Association (NCDA)
APPENDIX E National Career Development Guidelines (NCDG) Framework
INDEX

This title is also sold in the various packages listed below. Before purchasing one of these packages, speak with your professor about which one will help you be successful in your course.
Package ISBN-13: 9780133117097
Includes this title packaged with:
Career Counseling: Work in Progress DVD
Allan Greenwood, Norman E. Amundson, Spencer G. Niles
$173.20 $165.84 | Add to Cart