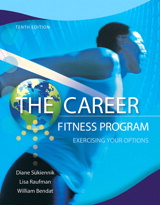 Description
For Career Planning, Career Development, and Career Decision Making courses/workshops.
The Career Fitness Program is firmly focused on today's career realities and economy - with sufficient breadth to help students choose, change, or confirm career choices and encourage growth for all ages, backgrounds, and circumstances.
The 10th edition is a top to bottom renovation, reaffirming, recasting, refocusing, and reframing this best-seller to revitalize content, graphics, photos, and layout to address the changing needs of students. It is user-friendly, easy to read, and suitable for both two- and four-year college students. It goes beyond facts and figures by offering critical questions that help students focus on, 'What's in it for them', to discover their best career fit. The organization follows the standard sequence of career search and decision-making process - Personal Assessment, The World of Work, and The Job Search - which enables use in short term courses or workshops while still giving students a comprehensive text for reference, and is easily customizable.
TECHNOLOGY OFFERING: MyStudentSuccessLab is available upon request. It is an online solution designed to help students 'Start strong, Finish stronger' by building skills for ongoing personal and professional development. Go to www.mystudentsuccesslab.com/coming for a Point and Click DEMO of the Time Management module.
Table of Contents
PART I: YOUR CAREER FITNESS PROFILE: SURVEY YOUR STRENGTHS
Chapter 1 Testing Your Career Savvy: Get Into Shape
Chapter 2 Building Your Career Success Profile: Discover Your Personal Power
Chapter 3 Confirming Core Values: Strengthen Your Balance
Chapter 4 Assessing Your Personality and Interests: Express Your Real Self
Chapter 5 Evaluating Your Skills: Accentuate Your Assets
PART II: HARNESS YOUR WORKPLACE SAVVY: SCOPE OUT THE WORLD OF WORK
Chapter 6 Examining the World of Work: Broaden Your Outlook
Chapter 7 Exploring Career Information: Expand Your Horizons
Chapter 8 Developing Your Decision Making: Strategize Your Game Plan
PART III: EXECUTE YOUR GAME PLAN: JOB SEARCH STRATEGY AND TEAM HUDDLE
Chapter 9 Targeting Your Job Search: Mobilize Your Network
Chapter 10 Crafting a Winning Resume and Portfolio: Market Your Unique Brand
Chapter 11 Interviewing Strategically: Become Your Own Coach
Chapter 12 Focusing on the Future: Keep the Momentum Going