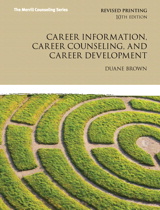 Description
A comprehensive survey of career development that emphasizes technology, cross-cultural issues, practical application, and the global economy.
Written by a leading expert in the field, this text covers all aspects of career counseling and career development in both the private and public sectors. The only book of its kind that emphasizes multicultural considerations and a global perspective, this text offers students the most complete and compelling look at the identification and use of occupational information and appraisal devices — in an array of environments and for all demographic groups. The newly revised and newly organized edition of Career Information, Career Counseling and Career Development focuses on technology in career development, free and low-cost career development strategies, and the impact of the recent recession on the job market.
Table of Contents
PART I FOUNDATIONS OF CAREER DEVELOPMENT PRACTICE
CHAPTER 1 Introduction to the Global Economy, Social justice, and Career Development
CHAPTER 2 Trait-and-Factor and Developmental Theories of Career Choice and Development and Their Applications
CHAPTER 3 Learning Theory-Based, Postmodern, Socioeconomic, and Decision-Making Theories and Their Applications
CHAPTER 4 Ethical and Legal Guidelines and the Competencies Needed for Career Development Practice
PART II CAREER COUNSELING, ASSESSMENT, AND INFORMATION DISSEMINATION
CHAPTER 5 A Values-Based, Multicultural Approach to Career Counseling and Advocacy
CHAPTER 6 Clients with Special Needs
CHAPTER 7 Assessment in Career Counseling and Development
CHAPTER 8 Using Information to Facilitate Career Development
CHAPTER 9 Virtual and Brick and Mortar Career Exploration Centers (CEC): Design and Implementation
PART III FACILITATING ACTION TAKING
CHAPTER 10 Preparing for Work
CHAPTER 11 Facilitating the Global Job Search: Employability Skills and Job Placement Services
PART IV MANAGING CAREER DEVELOPMENT PROGRAMS IN PRIVATE AND PUBLIC DOMAINS
CHAPTER 12 Designing and Implementing K-12 Career Development Programs Within the Framework of the ASCA National Model
CHAPTER 13 Career Development Programs in Postsecondary Educational Institutions
CHAPTER 14 Career Counselors in Private Practice: Counseling, Coaching and Consulting
CHAPTER 15 Career Development Programming in Business Organizations
CHAPTER 16 Program Evaluation and Evidence-Based Practice
PART V TRENDS AND ISSUES: LOOKING AHEAD
Chapter 17 Trends in the Labor Market and the Factors That Shape Them
Chapter 18 Trends and Issues in Career Information, the Job Search, Career Development, and Career Development Programming
Purchase Info
ISBN-10: 0-13-282139-7
ISBN-13: 978-0-13-282139-1
Format: Alternate Binding
Digital Choices ?
MyLab & Mastering with Pearson eText is a complete digital substitute for a print value pack at a lower price.
eTextbook ?
With CourseSmart eTextbooks and eResources, you save up to 60% off the price of new print textbooks, and can switch between studying online or offline to suit your needs.
Once you have purchased your eTextbooks and added them to your CourseSmart bookshelf, you can access them anytime, anywhere.