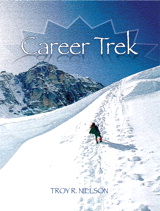 Description
For courses in Career Exploration or Career Development.
Using an engaging adventurer theme, Career Trek emphasizes ways to transform one's education investment into career success. This book covers essential career management topics such as self-awareness, networking, and resume writing, and goes beyond to discuss the importance of person-job fit and long-term career management strategies. Summaries and hands-on activities accompany each chapter and help readers uncover their own passions and skills. The book's tone is practical and engaging and its points are amplified by the references to Into Thin Air, by Jon Krakauer.
Table of Contents
INTRODUCTION
SECTION I: TREK OVERVIEW
1. Finding Your Fit, Passion, and Smile
2. Destination: A Successful Career
SECTION II: BASE CAMP
3. Who Are You? Career Aspirations and Preferences
4. What is in Your Pack? Talents, Skills, and Traits
5. Your Passport: Resume and Cover Letter
6. Who Is In Your Traveling Party? Networking
7. Researching the Corporate Terrain
8. Custom Routes: Entrepreneurial Endeavors and Graduate Glory
SECTION III: ASCENDING THE MOUNTAIN
9. Preparing for and Conducting an Effective Job Search
10. Preparing for the Interview
11. Shining in the Interview
12. Following Up the Interview: Negotiating and Evaluating Job Offers
SECTION IV: REACHING THE SUMMIT
13. Rules for Career Success
14. Career Decisions
15. Mentoring and Professional Development
Index.
Purchase Info ?
With CourseSmart eTextbooks and eResources, you save up to 60% off the price of new print textbooks, and can switch between studying online or offline to suit your needs.
Once you have purchased your eTextbooks and added them to your CourseSmart bookshelf, you can access them anytime, anywhere.
Buy Access
Career Trek: The Journey Begins, CourseSmart eTextbook
Format: Safari Book
$21.99 | ISBN-13: 978-0-13-501253-6