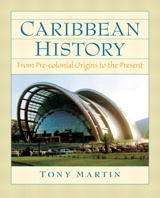 Description
An up-to-date, comprehensive survey of Caribbean history from pre-colonial times to the present.
More centrally focused on the Caribbean than any other survey of the region, Caribbean History examines a wide range of topics to give readers a thorough understanding of the region's history. The text favors a traditional, largely chronological approach to the study of Caribbean history, however, because it is impossible to be entirely chronological in the complex agglomeration of often disparate historical experiences, some thematic chapters occupy the broadly chronological framework. The author creates a readable narrative for undergraduates that contains the most recent scholarship and pays particular attention to the U.S.-Caribbean connection to more fully relate to students.
Table of Contents
Preface
Chapter 1: Original Peoples
Chapter 2: The Coming of Columbus
Chapter 3: The Northern European Challenge to Spain
Chapter 4: The Africans: Long Night of Enslavement
Chapter 5: The Enslaved and te Manumitted: Human Strivings in Savage Surroundings
Chapter 6: The Big FIght Back: Resistance, Marronage, Proto-States
Chapter 7: The Big Fight Back: Suriname and Jamaica
Chapter 8: The Big FIght: Rebellion to Haitian Revolution
Chapter 9: Emancipation: Help Arrives from Europe
Chapter 10: After Emancipation: Obstacles and Progress
Chapter 11: The Caribbean and Africa Through the Early 20th Century
Chapter 12: The United States and the Caribbean to World War II
Chapter 13: Twentieth Century to World War II: Turbulent Times
Chapter 14: World War II to Century's End
Chapter 15: Prognosis
Index
Enhance your learning experience with text-specific study materials.
Purchase Info
Digital Choices ?
MyLab & Mastering with Pearson eText is a complete digital substitute for a print value pack at a lower price.
MyLab & Mastering ?
MyLab & Mastering products deliver customizable content and highly personalized study paths, responsive learning tools, and real-time evaluation and diagnostics. MyLab & Mastering products help move students toward the moment that matters most—the moment of true understanding and learning.
eTextbook ?
With CourseSmart eTextbooks and eResources, you save up to 60% off the price of new print textbooks, and can switch between studying online or offline to suit your needs.
Once you have purchased your eTextbooks and added them to your CourseSmart bookshelf, you can access them anytime, anywhere.