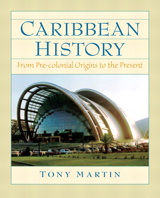 Description
For one-semester courses on the History of the Caribbean and Peoples and Cultures of the Caribbean.
Caribbean History, by Tony Martin, is one of the most up-to-date college survey texts available on the history of the Caribbean.
This text favors a traditional, largely chronological approach to the study of Caribbean history; however, because it is impossible to be entirely chronological in the complex agglomeration of often disparate historical experiences that is the Caribbean, there are some thematic chapters within the broadly chronological framework. More Caribbean-centered than other surveys of the region, the text examines topics that are either completely absent or are only perfunctorily treated in other texts.
Table of Contents
Preface
Chapter 1: Original Peoples
Chapter 2: The Coming of Columbus
Chapter 3: The Northern European Challenge to Spain
Chapter 4: The Africans: Long Night of Enslavement
Chapter 5: The Enslaved and te Manumitted: Human Strivings in Savage Surroundings
Chapter 6: The Big FIght Back: Resistance, Marronage, Proto-States
Chapter 7: The Big Fight Back: Suriname and Jamaica
Chapter 8: The Big FIght: Rebellion to Haitian Revolution
Chapter 9: Emancipation: Help Arrives from Europe
Chapter 10: After Emancipation: Obstacles and Progress
Chapter 11: The Caribbean and Africa Through the Early 20th Century
Chapter 12: The United States and the Caribbean to World War II
Chapter 13: Twentieth Century to World War II: Turbulent Times
Chapter 14: World War II to Century's End
Chapter 15: Prognosis
Index