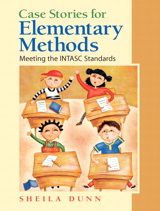 Description
Case Stories for Elementary Methods focuses on the necessity for teachers to meet the INTASC guidelines in this increasingly standards-based educational environment. Employing established standards for teaching requires educators to ask questions such as, "What knowledge is important? Who benefits by our teaching this knowledge? What aspects of a child's experience are important? What kind of professional growth is needed for technical practice? What kind of professional growth is needed for ethical practice or practical wisdom?" Acquiring the critical thinking skills and wisdom to answer these questions comes from experience. The case stories in this text provide one means of obtaining a head start in acquiring the much needed experience and decision-making skills for teaching.
This supplementary text is written in ten chapters that mirror the ten INTASC principles of teaching. These ten standards reflect the core knowledge, skills, and dispositions beginning teachers should possess. Each chapter contains two case stories that are related to real-life problems, issues, and concerns that teachers are likely to encounter in their careers as educators. The cases are purposely kept short (three to six pages) to allow ample time for reading, analysis, and discussion. Following each case is a series of topics for discussion. These topics provide an opportunity for students to interact with each other, share insights and values, and build their identity as teachers as they begin to "think like a teacher."
Table of Contents
Introduction
Chapter 1 INTASC Standard #1: Content Pedagogy
Chapter 2 INTASC Standard #2: Student Development
Chapter 3 INTASC Standard #3: Diverse Learners
Chapter 4 INTASC Standard #4: Multiple Instructional Strategies
Chapter 5 INTASC Standard #5: Motivation and Management
Chapter 6 INTASC Standard #6: Communication and Technology
Chapter 7 INTASC Standard #7: Planning
Chapter 8 INTASC Standard #8: Assessment
Chapter 9 INTASC Standard #9: Reflective Practice/Professional Growth
Chapter 10 INTASC Standard #10: School and Community Involvement
Purchase Info ?
With CourseSmart eTextbooks and eResources, you save up to 60% off the price of new print textbooks, and can switch between studying online or offline to suit your needs.
Once you have purchased your eTextbooks and added them to your CourseSmart bookshelf, you can access them anytime, anywhere.
Buy Access
Case Stories for Elementary Methods, CourseSmart eTextbook
Format: Safari Book
$18.99 | ISBN-13: 978-0-13-713204-1