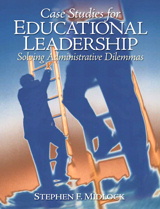 Description
Case Studies for Educational Leadership gives educational leadership students an opportunity to project themselves into real-life administrative situations and prepare for their future positions in the field. Each case study contained in this practical first edition book asks students to analyze complex problems, consider the moral ramifications of their approach, think on their feet, and ultimately solve the issue at hand.
Appropriate as a supplemental text or a main text to a range of educational leadership courses, this text thoroughly presents the key areas of educational leadership, including instructional leadership; ethics and management; organization and development of curriculum and its alignment with instruction with assessment; supervision of personnel; school community relations and strategic planning; and diversity issues in educational leadership.
Features
"Here's What Happened" features following each case study share the true-life story of a real school administrator and prepare readers for realistic situations.
"Ethical consideration" components within each case study encourage students to reflect upon different approaches to solving the case studies, as well as the possible moral ramifications of each decision.
Covers multiple administrative positions, such as department chair, assistant principal, principal and central office administrator, preparing readers for a range of educational leadership positions.
ISLLC standards alignment and cross-reference charts allow readers to draw parallels between standards and case studies.
Table of Contents
CHAPTER ONE – Using Case Studies and ISLLC Standards to Teach Future Educational Leaders
An Explanation of the ISLLC Standards
Organization of Case Studies by ISLLC Standard
How to Use the Case Studies in This Book
Homework
Spontaneous Response
Jigsaw Activity
Non-linguistic Activity
Intent of the Case Studies
CHAPTER TWO - Instructional Leadership
2-1. An All-Day Field Trip Impacts the Instructional Program (ISLLC Standard 2)
2-2. Kindergarten and the Twins: What Is Our Vision for Learning? (ISLLC Standard 1)
2-3. The High School Math Department: Are We Serving All Stakeholders? (ISLLC Standard 1)
2-4. Parents' Agreement – No Data Means "Get Rid of It!" (ISLLC Standard 3)
2-5. The Physical Education Dress Code and Its Fairness to All Students (ISLLC
Standard 5)
2-6. The Social Studies Teacher and Ethical Behavior (ISLLC Standard 5)
2-7. State Tests and Ethics (ISLLC Standard 6)
2-8. The Uncompromising Math Teacher (ISLLC Standard 3)
2-9. The Walkout and Related Politics (ISLLC Standard 6)
CHAPTER THREE - Ethics and Management
3-1. An Alleged Steroid User (ISLLC Standard 6)
3-2 .Another Assistant Superintendent Falsely Accuses One of Your Staff (ISLLC
Standard 5)
3-3. A Board Member's Son in a Fight (ISLLC Standard 3)
3-4. Cell Phones, a Bomb Threat, and a Building Evacuation (ISLLC Standard 3)
3-5. Differing Philosophies about Discipline (ISLLC Standard 5)
3-6. The Electricity Goes Out During the School Day: How to Manage This Situation. (ISLLC Standard 3)
3-7. Ethics and the Principal's Decision (ISLLC Standard 5)
3-8. Misuse of the RtI Initiative (ISLLC Standard 6)
3-9. A Murder Occurs a Block Away From the School: Maintaining a Safe Environment. (ISLLC Standard 3)
3-10. Office Politics – How Does a Conscientious Administrator Deal With Them and Still Maintain a Vision for Learning? - (ISLLC Standard 1)
3-11. The Principal Has to Develop a Plan For Disposing of an Oil Storage Tank: Legalities and Politics (ISLLC Standard 6)
3-12. The Principal Has Turned the Faculty against You: an Internal Public Relations Situation (ISLLC Standard 4)
3-13 .The Superintendent Is Using District Funds to Fix a District Car That He is Going to Buy: What Is the Ethical Course of Action?(ISLLC Standard 5)
3-14. A Tornado Strikes at Night –Should I Leave my Family to Check on the Building? (ISLLC Standard 3)
3-15. Trying to Implement a "Zero-Based Budget" to your Department Chairs (ISLLC Standard 3)
CHAPTER FOUR - Organization and Development of Curriculum
4-1. Evaluating the Reading Curriculum Revision (ISLLC Standard 1)
4-2. Kindergarten Curriculum Revision: Promoting an Effective Learning Environment Amid Politics (ISLLC Standard 3
4-3. The Life Skills Curriculum: Student Learning vs. Board Politics (ISLLC Standard 3)
4-4. The Math Curriculum Council: Professional Advancement vs. What's Best for Kids (ISLLC Standard 2)
4-5. Middle School Philosophy and Personal Beliefs Impact Student Learning Opportunities (ISLLC Standard 3)
4-6. The Mosquito Unit: When Ownership Takes Precedence Over Student Learning (ISLLC Standard 2)
4-7. Selecting a New Reading Series: Let's Maintain a Focus! (ISLLC Standard 1)
4-8. Selling a New Assessment Initiative to Your Department: It's all about Student Learning! (ISLLC Standard 2)
4-9. The Speech Teacher's Personal Agenda vs. the Instructional Program Goals (ISLLC Standard 3)
CHAPTER FIVE - Supervision of Personnel
5-1. Assignment of Classrooms to Benefit a New Teacher (ISLLC Standard 5)
5-2. The Dynamic Reading Program Equals a Recipe for Success? (ISLLC Standard 2)
5-3. The First Year Teacher and the Supervision Process (ISLLC Standard 2)
5-4. Four Internal Candidates Don't Get the Administrative Job (ISLLC Standard 6)
5-5. Jake's Classroom Management (ISLLC Standard 2)
5-6 The Outdoor Education Program That Goes Bad (ISLLC Standard 6)
5-7. The Move from Associate Chair to Department Chair: How to Evaluate My Predecessor (ISLLC Standard 3)
5-8. A New Assistant Superintendent Is Chosen over An Internal Candidate (ISLLC Standard 3)
5-9. The Science Teachers' Seniority vs. the Instructional Program (ISLLC Standard 5)
CHAPTER SIX - School Community Relations & Strategic Planning
6-1. The Band Boosters and a Trailer: A School Community Relations Dilemma (ISLLC Standard 4)
6-2. The Central Office Snitch (ISLLC Standard 3)
6-3 Crisis Management – A Student Fatality (ISLLC Standard 6)
6-4. The Dumpster Incident: Internal and External Public Relations (ISLLC Standard 6)
6-5. Graduating Students' Families Get into a Fight in the School Parking Lot (ISLLC Standard 4)
6-6. Let My Son Graduate even though He Failed Two Courses (ISLLC Standard 5)
6-7. Local Florist Lodges a Complaint about the Date of the Prom (ISLLC Standard 4)
6-8. Media Scoops and the School's Public Image (ISLLC Standard 4)
6-9. A Parent Raises a Concern about the Technology Curriculum (ISLLC Standard 4)
6-10. The Principal Is Directed to Ban the Local Newspaper Editor from the School (ISLLC Standard 4)
6-11. Students against Drinking and Driving: A Good Idea Goes Bad (ISLLC Standard 3)
6-12. Students' Drinking in Front of the School and the Political Implications (ISLLC Standard 6)
6-13. A Student Visa – a Neighboring District Charges Tuition (ISLLC Standard 5)
CHAPTER SEVEN - Diversity Issues in Educational Leadership
7-1. Bilingual Issues (ISLLC Standard 4)
7-2. The Blind ELL Student: Who's Responsible? (ISLLC Standard 2)
7-3. Communication with a Stubborn Superintendent (ISLLC Standard 6)
7-4. Faculty Issues Related to Gender (ISLLC Standard 5)
7-5. Homosexuality Issues and a Board Meeting (ISLLC Standard 5)
7-6. Placement in the Gifted Program? (ISLLC Standard 3)
7-7. Pride and Snobbery Between School Districts (ISLLC Standard 5)
CHAPTER EIGHT – Here's What Happened
Chapter Two Case Studies
Chapter Three Case Studies
Chapter Four Case Studies
Chapter Five Case Studies
Chapter Six Case Studies
Chapter Seven Case Studies
Additional Course Materials