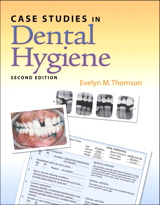 Description
Case Studies in Dental Hygiene, 2nd edition is designed to guide the development of critical thinking skills and the application of theory to care at all levels of dental hygiene education — from beginning to advanced students. This textbook is designed to be utilized throughout the dental hygiene curriculum. Because the questions and decisions regarding treatment of each case span the dental hygiene sciences and clinical practice protocols, this book will find a place in enhancing each and every course required of dental hygiene students. This text is a viable study guide to help students prepare for success on national, regional and state examinations which have a patient care focus. Case Studies in Dental Hygiene, 2nd edition is an excellent review text for the graduating dental hygiene student preparing to take the National Board Dental Hygiene Examination.
Table of Contents
Contents
Preface v
Acknowledgments ix
Pediatric Patient
CASE A Maya Patel
CASE B Zack Ware
CASE C Andrew Christianson
Adult-periodontal patient
CASE D Katherine Flynn
CASE E Louis Riddick
CASE F Banu Radpur-Ansari
geriatric patient
CASE G Juan Hernandez
CASE H Virginia Carson
CASE I Eleanor Gray
special needs patient
CASE J Thoroughgood Epps
CASE K Johnnie Johnson
CASE L Thomas Small
Medically Compromised patient
CASE M Nancy Foster
CASE N Brian Bartlett
CASE O Eileen Olds
Appendices
Human Needs Conceptual Model to Dental Hygiene Practice
Answers and Rationales
Topic Index
Purchase Info ?
With CourseSmart eTextbooks and eResources, you save up to 60% off the price of new print textbooks, and can switch between studying online or offline to suit your needs.
Once you have purchased your eTextbooks and added them to your CourseSmart bookshelf, you can access them anytime, anywhere.
Buy Access
Case Studies in Dental Hygiene, CourseSmart eTextbook, 2nd Edition
Format: Safari Book
$34.99 | ISBN-13: 978-0-13-501592-6