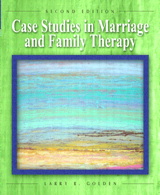 Table of Contents
Summary of Cases.
1. Internet Man,
Jeffrey Angera and John M. Littrell.
2. When the Problem Becomes a Gift,
Gabrielle Carey.
3. Living Between Two Worlds,
Montserrat Casado.
4. Rename the Blame Frame,
Collie W. Conoley.
5. An Affair to Forget,
Phyllis Erdman.
6. Losses and Gains,
Marcheta Evans.
7. It's Not Our Fault,
Molly Geil and William M. Walsh.
8. Let Me Be Me,
Joshua M. Gold.
9. The Boy Who Wouldn't Leave Home,
Larry B. Golden.
10. Coming Out,
Bibiana Gutierrez.
11. Holding the Family Together,
Fred J. Hanna.
12. From Russia with Love,
Karin B. Jordan.
13. A Family's Grief,
Connie M. Kane.
14. A "Selfish" Mom; A "Difficult" Teen,
Bruce S. Neben.
15. Mr. and Mrs. Blah,
Patrick O'Malley.
16. Beyond Stalemate: Steps to Intimacy,
Vimala Pillari.
17. Time Wasted or Time Invested?,
Thomas Scofield.
18. The Speed Demon and the Back Seat Driver,
James N. Sells.
19. The Boxer and the Cutman: A Metaphor for a Marriage,
Albert Valadez.
Index