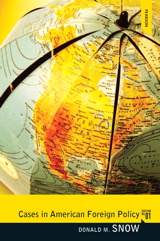 Description
Emphasizing the daily conduct of foreign policy, Cases in American Foreign Policy is a unique country-by-country analysis of American national interests in the 21st century.
Each of the 12 original case studies looks at what interests are at stake, what domestic and international factors affect the realization of those interests, and what scenarios exists for future U.S. relations. Drilling past theoretical generalization and looking at the specific characteristics and history of each relationship, Cases in American Foreign Policy not only assesses how American policymakers pursue their priorities but how foreign governments respond and demonstrate their willingness to work with the U.S.
MySearchLab does not come automatically packaged with this text. To purchase MySearchLab, please visit: www.mysearchlab.com.
Table of Contents
PART A. OLD ADVERSARIES AND NEW REALITIES
Chapter 1. Russia: Negotiating and Shaping Relations with a Former Adversary
Chapter 2. China: Coping with a Dynamic Adversary Turned Ambiguous Partner
PART B. NUCLEAR PROLIFERATION RESIDUES
Chapter 3. Iran: Facing Down Regional Aspirations and Nuclear Weapons
Chapter 4. North Korea: Balancing Recognition and the Nuclear Card
PART C. CHANGING INTERESTS WITH REGIONAL RIVALS
Chapter 5. India: Befriending and Redefining Relations with a Rising Democracy
Chapter 6. Pakistan: Bolstering a Potential Failed State and Ally
PART D. THE LEGACIES OF 9/11
Chapter 7. Iraq: Making the Best of the Aftermath of a Controversial War and Occupation
Chapter 8. Afghanistan: Containing and Ending a Protracted Conflict
PART E. DOMESTIC POLITICS AND NEIGHBORING STATES
Chapter 9. Mexico: Reconciling Common Borders with Underlying Tensions
Chapter 10. Cuba: Balancing Domestic and International Interests
PART F. CONFLICTING INTERESTS IN A GLOBAL HOT SPOT
Chapter 11. Israel: Recognizing and Coping with Tensions with a Special Ally
Chapter 12. Egypt: Searching for Adjustments to the Consequences of the Arab Spring
Purchase Info ?
With CourseSmart eTextbooks and eResources, you save up to 60% off the price of new print textbooks, and can switch between studying online or offline to suit your needs.
Once you have purchased your eTextbooks and added them to your CourseSmart bookshelf, you can access them anytime, anywhere.
Buy Access
Cases in American Foreign Policy, CourseSmart eTextbook
Format: Safari Book
$28.99 | ISBN-13: 978-0-205-85613-8