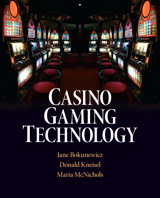 Description
For courses in Hospitality Information Systems and Gaming Technology.
The first of its kind, this book explores the systems and technologies crucial to casino operations. Offering broad coverage, it traces the evolution of technology in slots, tables, casino cage, marketing, security, and miscellaneous systems like race/simulcast and sports book. Written from a business perspective, it focuses on how technology and systems are used to make better decisions, improve customer service and streamline operations. Each chapter includes learning activities and in-class discussions that prompt students to understand the past, present, and future impact of technology on the casino business.
Table of Contents
SECTION I: INTRODUCTION
1. Evolution of Gaming Technology
2. Casino Information Systems and Interfaces
SECTION II: TABLES
3. Table Games Management
4. Cage Credit Collections
5. Table Player Rating
SECTION III: SLOTS
6. The History of Slot Machines
7. Slot Machine Technology
8. Slot Information Systems
SECTION IV: MARKETING
9. Player Loyalty Programs
10. Database Marketing
SECTION V:
11. Security and Surveillance
12. Race and Simulcast Systems
13. Sports Betting Systems
14. A Look to the Future
Purchase Info ?
With CourseSmart eTextbooks and eResources, you save up to 60% off the price of new print textbooks, and can switch between studying online or offline to suit your needs.
Once you have purchased your eTextbooks and added them to your CourseSmart bookshelf, you can access them anytime, anywhere.
Buy Access
Casino Gaming Technology, CourseSmart eTextbook
Format: Safari Book
$32.99 | ISBN-13: 978-0-13-504608-1