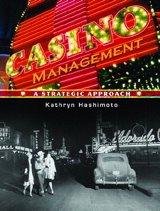 Description
For courses in Casino Management, Casino Marketing, or Intro to Gaming.
Unlike other casino books, this textbook examines the casino industry using a business paradigm. It emphasizes both external environmental influences and internal points of control, leaving readers with a more strategic look at how casinos operate and factors that influence their success. The text starts with a discussion of the microenvironment of casinos and ends with marketing topics such as product, price, place and promotions. Nine vignettes appear throughout and capture current issues such as crisis planning and security. Throughout the text, special emphasis is placed on strategic market planning and the connection between entertainment and industry.
Table of Contents
Table of Contents
PART ONE: INTRODUCTION
1. Introduction
PART TWO: EXTERNAL ENVIRONMENTS
2. Economic Environments
3. Social Environments
4. Culture and Technology
5. Casino Management and Politics
6. Legal Environment
PART THREE: EXTERNAL ENVIRONEMNTAL INFLUENCES
7. Consumer Behavior
8. Competition
PART FOUR: INTERNAL CONTROL
9. Product: Games & Statistics
10. Product: Organization
11. Pricing: Revenue Control
12. Pricing: Comps and Credit
13. Place
14. Promotions
PART FIVE: FUTURE
15. Future of Gamin
Purchase Info ?
With CourseSmart eTextbooks and eResources, you save up to 60% off the price of new print textbooks, and can switch between studying online or offline to suit your needs.
Once you have purchased your eTextbooks and added them to your CourseSmart bookshelf, you can access them anytime, anywhere.
Buy Access
Casino Management: A Strategic Approach, CourseSmart eTextbook
Format: Safari Book
$34.99 | ISBN-13: 978-0-13-500589-7