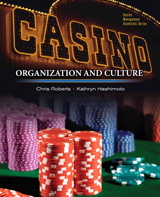 Description
A special series addressing casinos and casino management.
Designed to uncover the inner workings of a casino, this five book series tackles a variety of topics–from gaming methods, to financial controls, to marketing, to organization and culture. Each book covers a topic in-depth and offers a unifying management perspective. Aspiring students and current employees will benefit from the contributions industry professionals have made to these texts. Featuring a flexible design and accompanying instructor manual, the books can be used separately or together to provide a consistent curriculum for majors, minors and certification programs.
Table of Contents
Table of Contents
Chapter 1 An Introduction to Casino Organization and Culture
Chapter 2 Organization Structure of the Facility
Chapter 3 Casino Departments and Functions
Chapter 4 The Casino Hotel
Chapter 5 Food & Beverage
Chapter 6 Meeting, Conventions and Entertainment
Chapter 7 Casino Culture
Chapter 8 Lifestyle Impact
Chapter 9 Human Resource Issues in Casino Operations
Chapter 10 Responsible Gaming and Addictive Behaviors
Chapter 11 The Casino as a Community Neighbor
Purchase Info ?
With CourseSmart eTextbooks and eResources, you save up to 60% off the price of new print textbooks, and can switch between studying online or offline to suit your needs.
Once you have purchased your eTextbooks and added them to your CourseSmart bookshelf, you can access them anytime, anywhere.
Buy Access
Casinos: Organization and Culture, CourseSmart eTextbook
Format: Safari Book
$34.99 | ISBN-13: 978-0-13-500607-8