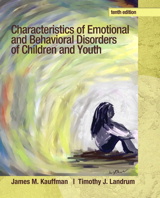 Description
The tenth edition of Characteristics of Emotional and Behavioral Disorders of Children and Youth follows the text's long-standing reputation for trusted research, a teacher-focused presentation, and clear explanations of the concepts related to students with EBD.
Streamlined in this edition, the text offers a coherent conceptualization of the problems of students with emotional and behavioral disorders and the common challenges for teachers. Its four-part format examines the background of EBD, the origins of disordered behaviors, types of disorders and the procedures and problems associated with assessment. This edition includes over 150 new references, a unified chapter on assessment, a new emphasis on teaching social skills and a separately available companion casebook filled with cases and interviews from teachers in the field.
Enhance your learning experience with text-specific study materials.
This title is also sold in the various packages listed below. Before purchasing one of these packages, speak with your professor about which one will help you be successful in your course.
Package ISBN-13: 9780132937306
Includes this title packaged with:
Cases in Emotional and Behavioral Disorders of Children and Youth, 3rd Edition
James M. Kauffman, Timothy J. Landrum
$201.33 $192.77 | Add to Cart