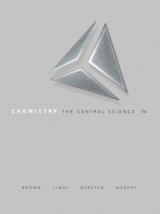 Table of Contents
1 Introduction: Matter and Measurement 1
2 Atoms, Molecules, and Ions 36
3 Stoichiometry: Calculations with Chemical Formulas and Equations 78
4 Aqueous Reactions and Solution Stoichiometry 118
5 Thermochemistry 164
6 Electronic Structure of Atoms 210
7 Periodic Properties of the Elements 254
8 Basic Concepts of Chemical Bonding 296
9 Molecular Geometry and Bonding Theories 340
10 Gases 392
11 Intermolecular Forces, Liquids, and Solids 436
12 Modern Materials 480
13 Properties of Solutions 526
14 Chemical Kinetics 572
15 Chemical Equilibrium 626
16 Acid—Base Equilibria 666
17 Additional Aspects of Aqueous Equilibria 718
18 Chemistry of the Environment 766
19 Chemical Thermodynamics 800
20 Electrochemistry 842
21 Nuclear Chemistry 892
22 Chemistry of the Nonmetals 930
23 Metals and Metallurgy 980
24 Chemistry of Coordination Compounds 1012
25 The Chemistry of Life: Organic and Biological Chemistry 1050
Appendices
A Mathematical Operations 1104
B Properties of Water 1111
C Thermodynamic Quantities for Selected Substances at 298.15 K (25 °C) 0000
D Aqueous Equilibrium Constants 0000
E Standard Reduction Potentials at 25 °C 0000
Answers to Selected Exercises A-1
Answers to "Give It Some Thought" A-00
Enhance your learning experience with text-specific study materials.
Additional Course Materials
Purchase Info
ISBN-10: 0-13-600617-5
ISBN-13: 978-0-13-600617-6
Format: Book
Digital Choices
MyLab & Mastering ?
MyLab & Mastering products deliver customizable content and highly personalized study paths, responsive learning tools, and real-time evaluation and diagnostics. MyLab & Mastering products help move students toward the moment that matters most—the moment of true understanding and learning.