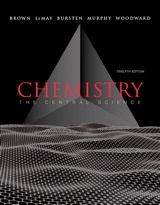 Description
Trusted, innovative, and calibrated, Chemistry: The Central Science has been the leader in general chemistry for over a decade. The unrivaled problems, scientific accuracy, and clarity that keep Brown/LeMay/Bursten/Murphy/Woodward at the forefront of the discipline have been upheld and are woven seamlessly with each new feature in this edition.

The Twelfth Edition is this text's most ambitious revision to date—every word and piece of art has been scrutinized for effectiveness by all five authors. Based on abundant data culled from MasteringChemistry®, this intelligent, data-informed revision reflects the unparalleled teaching expertise of its author team. Each chapter has been updated and streamlined to remove any content not proven to increase student comprehension of the fundamental concepts of chemistry. Joined in this edition by new co-author Patrick Woodward, the book's impeccable authorship gains a fresh, new perspective yet maintains its unified, consistent voice. CourseSmart textbooks do not include any media or print supplements that come packaged with the bound book.
Table of Contents
1 Introduction: Matter and Measurement
2 Atoms, Molecules, and Ions
3 Stoichiometry: Calculations with Chemical Formulas and Equations
4 Reactions in Aqueous Solution
5 Thermochemistry
6 Electronic Structure of Atoms
7 Periodic Properties of the Elements
8 Basic Concepts of Chemical Bonding
9 Molecular Geometry and Bonding Theories
10 Gases
11 Liquids and Intermolecular Forces
12 Solids and Modern Materials
13 Properties of Solutions
14 Chemical Kinetics
15 Chemical Equilibrium
16 Acid–Base Equilibria
17 Additional Aspects of Aqueous Equilibria
18 Chemistry of the Environment
19 Chemical Thermodynamics
20 Electrochemistry
21 Nuclear Chemistry
22 Chemistry of the Nonmetals
23 Transition Metals and Coordination Chemistry
24 The Chemistry of Life: Organic and Biological Chemistry

Appendices
A Mathematical Operations
B Properties of Water
C Thermodynamic Quantities for Selected Substances at 298.15 K (25 °C)
D Aqueous Equilibrium Constants
E Standard Reduction Potentials at 25 °C
Answers to Selected Exercises
Answers to "Give It Some Thought"
Answers to "Go Figure"

Purchase Info ?
With CourseSmart eTextbooks and eResources, you save up to 60% off the price of new print textbooks, and can switch between studying online or offline to suit your needs.
Once you have purchased your eTextbooks and added them to your CourseSmart bookshelf, you can access them anytime, anywhere.
Buy Access
Chemistry: The Central Science, CourseSmart eTextbook, 12th Edition
Format: Safari Book
$113.99 | ISBN-13: 978-0-321-70505-1