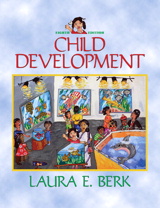 Description
Long considered THE standard text in child development, the Eighth Edition of this best-selling topical approach to child development continues its tradition of being the most current and comprehensive text available.
Laura Berk, renowned professor and researcher in the field of child development, has revised her Child Development text, adding new pedagogy, a heightened emphasis on the interplay between biology and environment, expanded coverage of culture, and an enhanced focus on education, health, and social issues, including many social policy topics addressed throughout the text. Berk's revision provides contemporary and cohesive coverage on contexts for development, including but also extending beyond the family to peers, schooling, media, neighborhoods, communities, and societal values and priorities.
Table of Contents
I. THEORY AND RESEARCH IN CHILD DEVELOPMENT.
1. History, Theory, and Applied Directions.
2. Research Strategies.
.
II. FOUNDATIONS OF DEVELOPMENT.
3. Biological Foundations, Prenatal Development, and Birth.
4. Infancy: Early Learning, Motor Skills, and Perceptual Capacities.
5. Physical Growth.
III. COGNITIVE AND LANGUAGE DEVELOPMENT.
6. Cognitive Development: Piagetian, Core Knowledge, and Vygotskian Perspectives.
7. Cognitive Development: An Information-Processing Perspective.
8. Intelligence.
9. Language Development.
IV. PERSONALITY AND SOCIAL DEVELOPMENT.
10. Emotional Development.
11. Self and Social Understanding.
12. Moral Development.
13. Development of Sex Differences and Gender Roles.
V. CONTEXTS FOR DEVELOPMENT.
14. The Family.
15. Peers, Media, and Schooling.