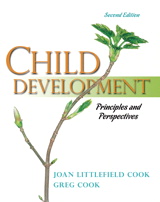 Description
The topically-organized Child Development, Second Edition combines streamlined coverage with an application-driven active learning system. Cook and Cook focus students on how they can promote positive child development by putting the science to work outside of the classroom.
Looking for additional resources to help you understand the material and succeed in this course? MyDevelopmentLab contains study tools such as flashcards, self tests, videos, as well as MyVirtualChild which allows you to raise your own virtual child from birth through age 18 and monitor the results.
Want to learn more about MyVirtualChild? Visit www.mydevelopmentlab.com and click on the 'watch this video' link to learn about MyVirtualChild.
MyDevelpmentLab with MyVirtualChild is available at www.mydevelopmentlab.com.
Table of Contents
CHAPTER 1
EXPLORING CHILD DEVELOPMENT
DEFINING THE FIELD
What Develops?
What Drives Development? Nature, and Nurture, and Reciprocal Relationships
THEORIES OF CHILD DEVELOPMENT
What Is a Theory, and Why Are Theories Useful?
Psychoanalytic Theories
Behavioral and Social Learning Theories
Cognitive Theories
Biological Theories
Contextual and Systems Theories
USING THE SCIENTIFIC METHOD: RESEARCH IN CHILD DEVELOPMENT
Descriptive Research Methods
Correlational Research Methods: Measuring Associations
Experimental Research Methods: Determining Cause and Effect
Methods for Assessing Development
Ethics in Research with Children
APPLICATIONS OF CHILD DEVELOPMENT RESEARCH AND CAREERS RELATED TO CHILDREN
Practical Applications of Child Development Research
Personal Perspective "Meet First-Time Expectant Parents"
Social Policy Perspective: "Every Day in America"
Careers Related to Children
Professional Perspective: "Career Focus: Meet a School Social Worker"
CHAPTER 2
HEREDITY AND THE ENVIRONMENT
GENES AND HUMAN REPRODUCTION
Genes and the Magical Four-Letter Code
Social Policy Perspective: "Protecting the Genetic Privacy of Citizens"
Human Reproduction and Cell Division
Personal Perspective: "Meet a Couple Who Used Artificial Insemination "
HOW TRAITS AND GENETIC ABNORMALITIES ARE INHERITED
Dominant—Recessive Traits
Chromosome Abnormalities
Prenatal Screening and Genetic Testing
Professional Perspective: "Career Focus: Meet a Genetic Counselor"
HOW GENES AND ENVIRONMENTS INTERACT
Range of Reaction
Canalization
Niche-Picking: I Gotta Be Me ...
Probabilistic Epigenesis: Activating Your Genes
BEHAVIOR GENETICS: MEASURING THE HERITABILITY OF TRAITS
Behavior Genetics, Heritability, and Shared and Nonshared Environments
How Is Heritability Estimated?
Heritability of Complex Characteristics
CHAPTER 3
PRENATAL DEVELOPMENT AND BIRTH
PRENATAL DEVELOPMENT
Conception
Stages of Prenatal Development
TERATOGENS: HEALTH RISKS FOR THE BABY
Alcohol
Personal Perspective: "Meet a Family Who Adopted a Child with FAS"
Cocaine
Cigarette Smoking
Social Policy Perspective: "The Case of Malissa Ann Crawley"
Maternal Health
Maternal Age
Critical Periods
The Role of Fathers
THE PROCESS OF BIRTH
Stages of Birth
Options in Giving Birth: Choices and Alternatives
Professional Perspective: "Career Focus: Meet a Certified Nurse—Midwife."
Drugs during Labor and Delivery
The Partner's Role: Helping During Birth
Birthing Complications: Something Isn't Right
Here's the Newborn!
INFANTS AT RISK: PREMATURITY AND INFANT MORTALITY
What Is Prematurity?
Infant Mortality
Prenatal Care: Having a Healthy Baby
BECOMING A FAMILY: PSYCHOLOGICAL ADJUSTMENTS TO HAVING A NEWBORN
The Transition to Parenthood
Becoming the Big Brother or Sister
CHAPTER 4
PHYSICAL DEVELOPMENT: BODY, BRAIN, AND PERCEPTION
PHYSICAL GROWTH AND THE DEVELOPMENT OF MOTOR COORDINATION
Physical Growth
Reflexes: The Infant's First Coordinated Movements
Voluntary Movements: The Motor Milestones
Professional Perspective: "Career Focus: Meet a Physical Therapist"
Nutrition and Eating-Related Problems
DEVELOPMENT OF THE BRAIN AND NERVOUS SYSTEM
Structure of the Brain and Nervous System
Forming the Brain and Nervous System
The Role of Experience in Brain Development
Social Policy Perspective: "Can Mozart Stimulate Neural Connections in Infants?"
Neural Plasticity and Sensitive Periods
Larger Developmental Patterns in the Brain
PERCEPTUAL DEVELOPMENT
Robert Fantz and Visual Preferences
Habituation—Dishabituation Research
Vision
Auditory Perception
Perception of Smell and Taste
Intermodal Perception
HEALTH AND SAFETY ISSUES
Childhood Deaths and Safety Issues
Child Abuse and Neglect
Personal Perspective: One Survivor's Story
CHAPTER 5
COGNITIVE DEVELOPMENT: PIAGETIAN AND SOCIOCULTURAL VIEWS
PIAGET'S CONSTRUCTIVIST VIEW OF COGNITIVE DEVELOPMENT
Piaget as a Child Prodigy
Constructivism and Interaction with the Environment
PIAGET'S STAGES OF COGNITIVE DEVELOPMENT
Stage 1: Sensorimotor Thought (Birth to 2 Years)
Personal Perspective: "Where Did It Go?"
Stage 2: Preoperational Thought (2 to 7 Years)
Stage 3: Concrete Operational Thought (7 to 11 Years)
Stage 4: Formal Operational Thought (Approximately Age 12 and Above)
Evaluation of Piaget's Theory
Piaget's Legacy
Professional Perspective: "Career Focus:Meet a Constructivist Teacher"
VYGOTSKY'S SOCIOCULTURAL VIEW OF COGNITIVE DEVELOPMENT
Vygotsky's Background: The Sociocultural Context for a New Theory
The Role of Speech and Language
Mediation: With a Little Help from Your Friends
The Zone of Proximal Development
Social Policy Perspective: "When Should Children Start School?"
Scaffolding: Support during Learning
RECENT SOCIOCULTURAL VIEWS OF COGNITIVE DEVELOPMENT
Situated Cognition
Guided Participation
Thinking as Socially Shared Cognition: Two Heads Are Better than One
CHAPTER 6: INFORMATION PROCESSING: THE DEVELOPMENT OF MEMORY AND THOUGHT
INFORMATION PROCESSING AND COGNITIVE DEVELOPMENT
What Is the Information-Processing Approach?
Processing Capacity and Efficiency
Attention and Attention Defecit/Hyperactivity Disorder
Personal Perspective: "Meet a Child with Attention-Deficit/Hyperactivity Disorder"
MEMORY DEVELOPMENT
Two Models of Memory: Stores and Networks
Working Memory
Long-Term Memory
Other Characteristics of Memory Development
Social Policy Perspective: "Children's Eyewitness Testimony"
DEVELOPING KNOWLEDGE AND STRATEGIES
Knowledge Base
Strategy Development
Professional Perspective: "Teaching Memory Strategies in the Classroom"
METACOGNITION AND THE CHILD'S DEVELOPING THEORY OF MIND
Metacognition and Metamemory
Theory of Mind
Autism and Autistic Spectrum Disorders
CURRENT APPROACHES TO UNDERSTANDING COGNITIVE DEVELOPMENT
Computational Models of Thought
Fuzzy Trace Theory
Information Processing: Where Does It Stand?
CHAPTER 7
Intelligence and Academic Skills
Theories of Intelligence
Psychometric Approaches
Sternberg's Triarchic Theory
Gardner's Theory of Multiple Intelligences
What about Creativity?
Assessing Intelligence
History of Intelligence Testing
Intelligence Testing Today
Professional Perspective: "Career Focus: Meet a School Psychologist"
Extremes of Intelligence
Ethnic Differences and Questions about Cultural Bias
Social Policy Perspective: "Ethnicity and IQ"
DEVELOPING Academic Skills
Mathematics
Reading
Personal Perspective: "Meet a Literacy Volunteer"
Writing
Problems with Academics: Communication and Learning Disorders
CHAPTER 8
Language Development
What Is Language?
Characteristics of Language
The Structure of Language
Theories of Language Development
Learning Theory: Language as a Learned Skill
Nativist Theory: Born to Talk
Interaction Theories: Cognitive and Social Interactionist Approaches
Development of Language: What Happens When?
Infant Communication: How Language Starts
From First Words to Conversation: Language in Early Childhood
Perfecting Communication: Language in Middle Childhood and Adolescence
Professional Perspective: "Career Focus: Meet a School Speech—Language Therapist"
Issues in Language Development
Bilingualism: Learning Two Languages
Personal Perspective: "Meet a Bilingual Family"
Social Policy Perspective: "Bilingual Education"
Social and Cultural Dialects
CHAPTER 9
Attachment, Temperament, and Emotion
Attachment
The Story of Attachment Research
Mary Ainsworth and the Strange Situation
Parent, Child, and Cultural Factors in Attachment
Professional Perspective: "Career Focus: Meet a Preschool Teacher"
Fathers, Day Care, and Attachment
Social Policy Perspective: "Parental Leave Policies in the United States and Other Nations"
Early Attachment and Long-Term Outcomes
Other Measures of Attachment
Temperament
Types of Temperaments
Personal Perspective: "Meet the Parent of a Difficult Child"
Other Approaches to Temperament
Appreciating Temperamental Differences
Emotion
Infants' Responses to Emotions
Childhood Emotional Development
Depression, Suicide, and Resilient Children
Tying It Together: Attachment, Temperament, and Emotional Development
CHAPTER 10
THE DEVELOPMENT OF SELF AND GENDER
WHO AM I? THE DEVELOPMENT OF SELF
What Is "Self"?
Changes in Self-Representation across Ages
Personal Perspective: "Developing an Ethnic Identity"
SELF-EVALUATION AND SELF-REGULATION
Evaluating the Self
Professional Perspective: "Career Focus: Meet a High School Guidance Counselor"
Self-Regulation
SEXUAL MATURATION AND SEXUAL ORIENTATION
Sexual Maturation
Early and Late Maturation
The Development of Sexual Orientation
THEORIES AND ISSUES IN GENDER DEVELOPMENT
Similarities and Differences Between Boys and Girls
Social Policy Perspective: "Single Sex Schools: Increasing Opportunity or a Return to Educational Segregation?"
Theories of Gender Development: A Brief Survey
The Development of Gender Concepts and Sex-Typed Behaviors
CHAPTER 11
MORAL DEVELOPMENT
MORAL REASONING AND EMOTIONS
Kohlberg's Stages of Moral Reasoning
Guilt and Empathy: The Roles of Emotions in Moral Development
MORAL DEVELOPMENT AND AGGRESSION
Aggressive Behavior
Bullying
Conduct Disorder
Juvenile Delinquency and Gangs
Professional Perspective: "Career Focus: Meet a Juvenile Probation Officer"
MORAL DEVELOPMENT AND RISKY BEHAVIORS
Substance Use and Abuse
Teen Driving
Teen Sexual Activity
Teenage Pregnancy
Social Policy Perspective: "The Sex Education Debate"
POSITIVE YOUTH DEVELOPMENT
What is Positive Youth Development?
Prosocial Reasoning and Behavior
Religiosity and Spirituality
Personal Perspective: "Through Our Eyes"
Resilient Children
How Can Adults Help Foster Positive Youth Development?
CHAPTER 12
PEERS, PLAY, AND POPULARITY
Peer Relations, Friendships, AND DATING
Social Relations among Infants and Toddlers
Friendships during the Preschool and Childhood Years
Gender Segregation among Childhood Friends
Friends and Peers in Adolescence
Transition to Dating and Romantic Relationships
CHILDREN'S PLAY
The Social Levels of Play: Parten's Classic Study
Types of Play from Infancy through Adolescence
Professional Perspective: "Career Focus: Meet a Toy Company Executive"
Personal Perspective: "Play at Different Ages"
Cultural Differences in Play
POPULAR AND UNPOPULAR CHILDREN
Categories of Popular and Unpopular Children
A Social Cognition Model of Peer Relations
Consequences of Peer Rejection
Social Policy Perspective: "How Should We Deal with Aggressive Students?"
CHAPTER 13
Families
FAMILY LIFE
The Family System
Parenting: Best Practices for Raising Children
Discipline: What's a Parent to Do?
Social Policy Perspective: "Should Parents Be Licensed?"
Personal Perspective: "Carrots or Sticks?"
Mothers, Fathers, and Co-Parenting
Sibling Relationships
Grandparents and the Family System
Changing Family Structures
Marital Conflict and Divorce
Professional Perspective: "Career Focus: Meet a Psychotherapist Who Works with Divorced
Parents and Children"
Never-Married Households
Starting Over: Stepfamilies
Adopted Children
Families with Lesbian or Gay Parents
Ethnic Minority Families
CHILD CARE: WHO'S WATCHING THE KIDS?
Nonparental Care and Its Effects
Child Care Quality
Self-Care: Latchkey Kids
Chapter 14
Schools, Media, and Culture
Schools and Development
Early Childhood Education and Kindergarten Readiness
Social Policy Perspective: "Project Head Start: What Lies Ahead?"
Effective Schooling: What Does It Take?
Cross-National and Ethnic Differences in Schooling
Personal Perspective: "Meet a Teen With a Music Talent"
How Can We Prevent Problems in Schooling?
Children and the Media
What Kinds of Media Are Children Using?
What Are the Effects of Media?
State of the Art: Newer Forms of Media
Explaining Media's Effects
Professional Perspective: "Career Focus: Meet a Marketing Executive"
Cultural Contexts for Development
Cultural Orientations: Individualism and Collectivism
What's the Neighborhood Like? Urban and Rural Poverty
Coming to America: Immigration and Acculturation
Explaining Culture's Influence
Enhance your learning experience with text-specific study materials.