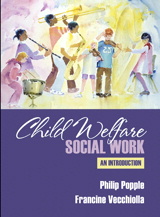 Description
Child Welfare Social Work is a brief, introductory text for child welfare courses covering the most important policy and practice issues.
At the current time, child welfare social work is, in the words of businesspeople, a "growth industry." After a number of years of deprofessionalizing child welfare via the declassification of social work positions in child welfare agencies, these agencies are turning to schools of social work with pleas for help.
There are a number of reasons for the renewed interest of child welfare agencies in professionally trained personnel. The first is the explosive growth in abuse and neglect referrals over recent decades, with the accompanying increases in caseload sizes, foster home placements, and demand for preventive services–all combining to create a need for better-trained staff. Another factor is the number of legal challenges that have been filed by groups such as the American Civil Liberties Union's Children's Rights Project, which have, in every case, resulted in court orders to improve services. One of the components of the directives to improve services has generally been to upgrade the professional qualifications of child welfare staff. Finally, most large city newspapers now have a reporter assigned to the child welfare beat, which means agency problems are quickly subjected to public scrutiny, with the result that mistakes are nearly always accompanied by cries for better-trained staff.
Schools of social work, for their part, have finally begun to recognize that child welfare is a central concern and responsibility of the social work profession. Strangely, this has not always been the case. Until fairly recently, the child welfare agency was viewed by schools of social work as a place where truly professional social work practice was difficult, if not impossible, and a job in such an agency was seen as a stop gap for any graduate–to be taken only until a job in a mental health agency opened up. Fortunately, beginning with the NEW Partnership initiatives that began in the 1970s and continuing on to the federally funded Title IVE child welfare education collaboratives, this is no longer the case. Education for child welfare practice is now a central concern of virtually every undergraduate department and graduate school of social work in the United States.
This increased emphasis on child welfare by social work education has been accompanied by the need for up-to-date, relevant, user-friendly educational materials. For this reason the authors have written Child Welfare Social Work: An Introduction to help meet that need.
Table of Contents
Child Welfare as a Field of Social Work and Public Policy.
Child Welfare in America: A Brief History.
Families and Children Served by Child Welfare Agencies.
Risk Factors and Risk Assessment in Child Welfare.
Assessing and Intervening with Families.
Universal Services for Children.
Services to Families and Children at Home.
Services to Families and Children with the Children in Substitute Care.
Services for Children Who Cannot Go Home.
Doing Child Welfare.
Other Key Players in the Child Welfare System.
Concluding Thoughts on the Practice of Child Welfare.
Purchase Info ?
With CourseSmart eTextbooks and eResources, you save up to 60% off the price of new print textbooks, and can switch between studying online or offline to suit your needs.
Once you have purchased your eTextbooks and added them to your CourseSmart bookshelf, you can access them anytime, anywhere.
Buy Access
Child Welfare Social Work, CourseSmart eTextbook
Format: Safari Book
$54.99 | ISBN-13: 978-0-205-61388-5