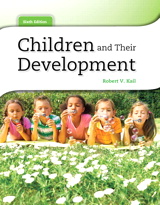 Description
Research Made Relevant
For Child Development courses in Psychology, Education, Human Development, Child and Family Studies, and Early Childhood Education. Covers prenatal through adolescence.
Written by a well-known and respected researcher in the field of child development, this TOPICALLY organized text uses unique and effective pedagogy as the framework of the entire text. Designed to demonstrate how research translates into practice with accessible writing, a modular format, and application-based features such as: Focus on Research, Cultural Influences, Spotlight on Theories, Improving Children's Lives, and Child and Development and Family Policy.
Available with MyDevelopmentLab! www.pearsonhighered.com/newmylabs
Click here to view a sample chapter! www.coursesmart.com/9780205035298/firstsection
Table of Contents
BRIEF TABLE OF CONTENTS:
Chapter 1: The Science of Child Development.
Chapter 2: Genetic Bases of Child Development.
Chapter 3: Prenatal Development, Birth and the Newborn.
Chapter 4: Growth and Health.
Chapter 5: Perceptual and Motor Development.
Chapter 6: Theories of Cognitive Development.
Chapter 7: Cognitive Processes and Academic Skills.
Chapter 8: Intelligence and Individual Differences in Cognition
Chapter 9: Language and Communication.
Chapter 10: Emotional Development.
Chapter 11: Understanding Self and Others.
Chapter 12: Moral Understanding and Behavior.
Chapter 13: Gender and Development.
Chapter 14: Family Relationships.
Chapter 15: Influences beyond the Family.
Purchase Info ?
With CourseSmart eTextbooks and eResources, you save up to 60% off the price of new print textbooks, and can switch between studying online or offline to suit your needs.
Once you have purchased your eTextbooks and added them to your CourseSmart bookshelf, you can access them anytime, anywhere.
Buy Access
Children and Their Development, CourseSmart eTextbook, 6th Edition
Format: Safari Book
$89.99 | ISBN-13: 978-0-205-03529-8