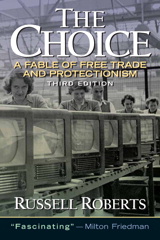 Table of Contents
CHAPTER 1 Minutes of the Heavenly Court: Soul of David Ricardo
CHAPTER 2 The Challenge of Foreign Competition
CHAPTER 3 The Roundabout Way to Wealth
CHAPTER 4 Is Trade Good for America?
CHAPTER 5 Are Manufacturing Jobs Better Than Service Jobs?
CHAPTER 6 Is Outsourcing a Threat to American Prosperity?
CHAPTER 7 Do Tariffs Protect American Jobs?
CHAPTER 8 Tariffs versus Quotas
CHAPTER 9 Road Trip
CHAPTER 10 The Case for Protection
CHAPTER 11 Do Trade Deficits Hurt America?
CHAPTER 12 Fair Trade versus Free Trade
CHAPTER 13 Is Globalization Good for the Poor?
CHAPTER 14 Self-Sufficiency Is the Road to Poverty
CHAPTER 15 The Choice
CHAPTER 16 A Final Word from David Ricardo
CHAPTER 17 Explanations, Sources, and Further Reading
About the Author
Index