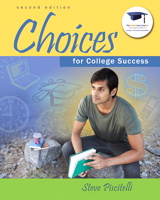 Description
This is a book about personal choices--responsible choices that will help students get what they want from school and life. Throughout the text, students are asked, "What are you doing to get what you want?"
Each chapter and every activity demonstrates how responsible decision-making and follow-through put potential and ambition into action. Potential is the ability; ambition is the desire; and initiative is the doing. It demonstrates how organized action enhances academic success and helps create a healthy and balanced life. As one reviewer stated, "The text tells the reader WHAT they need to know and HOW they need to do it." Core changes to this edition include a pre- and post assessment, new financial management chapter, revised and enhance information literacy coverage, and test taking is expanded to two chapters (prep and performance).
Table of Contents
Brief Table of Contents
Part 1: Choices for Priority Management
1. Transitions, Balance, and Organization
2. Organizing Time, Space, and Money
3. Motivation and Goal Setting
4. Critical Thinking and Learning Preferences
Part 2: Choices for Academic Success
5. Class-Time Listening and Note-Taking Skills
6. Out-of-Class Strategies for Notes Review and Textbook Reading
7. Test Preparation and Memory Skills
8. Test Performance
9. Information Literacy
Part 3: Choices for a Balanced Life
10. The Many Faces of Civility
11. Treating Yourself With Respect
12. Financial Literacy
13. Exploration of Majors and Careers
AFTERWORD
Additional Course Materials
Purchase Info
ISBN-10: 0-13-700751-5
ISBN-13: 978-0-13-700751-6
Format: Alternate Binding
Digital Choices ?
MyLab & Mastering with Pearson eText is a complete digital substitute for a print value pack at a lower price.
MyLab & Mastering ?
MyLab & Mastering products deliver customizable content and highly personalized study paths, responsive learning tools, and real-time evaluation and diagnostics. MyLab & Mastering products help move students toward the moment that matters most—the moment of true understanding and learning.
+ Other Options